Meet Singer-Songwriter Parry Adams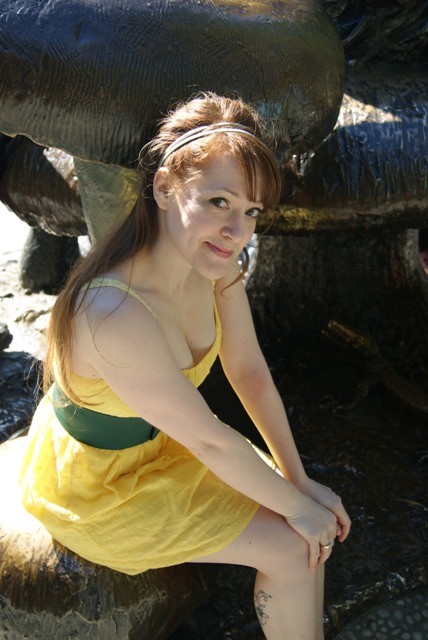 Meet Parry Adams: the antithesis of all those sad, melodramatic songs about loss and heartbreak. Starting with the release of her Puzzle Piece EP in 2011, Parry has put charm and positive energy into her music. BFTV connected with Parry to find out what makes her an artist we know and love.
"It's been something I've wanted to do since I could talk, really," she said of her career choice. "I had started out focused on musical theater and that really ecame a career option for me when I was in 6th grade. My dad asked me what I wanted to do and I said 'I want to sing and dance on Broadway.' He said 'All right, let's get you started in some community theater.' I went to college for musical theater.
"But when I was in first grade, I was in the arts fair for music," she added. "I had started writing songs when I was that little but I didn't really consider it as an option for a career." After her musical theater career didn't go as planned, she found herself changing her focus. "I was like 'All right. What are the things that I can't give up about this?' Music and singing were really it," she continued. "So I chose a different road."
That led her to create the EP, and unique music videos like this one for the song "Little Girl." Take a watch, and give a listen to Parry's endearing singer-songwriter sound.
Her career is still very much developing. "I don't know if I even feel like I've made it at this point," said Parry, who's planning some East Coast touring this fall to continue to raise her profile. "When I will feel like I've made it is when I don't have to work a day job [and] I can just support myself on music."
Parry has one thing that many more experienced artists don't: a strong social media presence. In addition to the usual Facebook and Twitter effort, she maintains her own blog on Tumblr. She's also behind Parry's Positivity Project, where she aims to brighten her fans' day by posting a new cover video each week, and shares other people's submissions as well. Past covers have included Don Ho's "Tiny Bubbles" and Starship's "Nothing's Gonna Stop Us Now." She's clearly committed to being as hands-on with her fans as possible.
"How else do you grow a fan base in this particular music economy?" she reflected. "I want to spread my message to everyone on the planet, perhaps the universe."
Who influences her to make her unique brand of music? "Really, there's too many. The list is infinite," Parry said. "But I guess a couple people [in particular]. Sara Bareilles, I love her and I think she has such a fantastic personality from what I've seen on her Twitter feed. I met her briefly a couple of months ago. She happened to sit in for one song on a band I was seeing in New York. I met her and I was totally fangirling. I almost cried afterward. She's one of my favorites.
"I really like John Mayer. He's been influential in my writing," she added, "[and] Fiona Apple. I like that she doesn't usually have songs that are so of the norm. They're just a little bit different." Different could also be used to describe Parry - but it's a good different, one that's guaranteed to put a smile on your face.
You can learn more about Parry by visiting her website (parryadams.com) or following her on Twitter (@ParryLove).
(c)2013 Brittany Frederick. Appears at Starpulse with permission. All rights reserved. No reproduction permitted. Visit my official website and follow me on Twitter at @tvbrittanyf.