Meet Singer-Songwriter Micah Sheveloff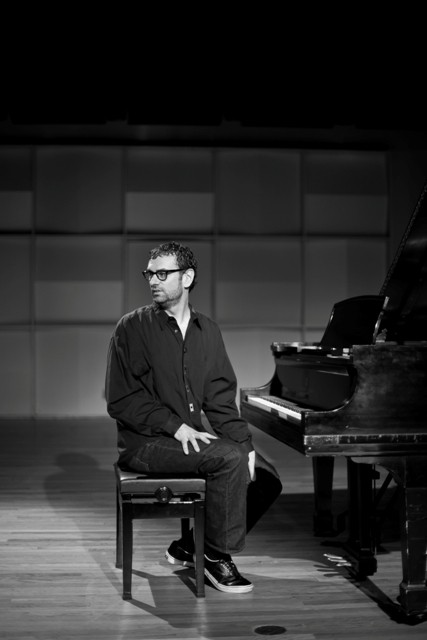 Boston-born musician Micah Sheveloff is merging a classical music background with a popular music sensibility. BFTV recently connected with Micah to chat about his sound, his quirky history in the business, and the one thing he'd like you to remember when you're listening to music.
Micah - who is a pianist, vocalist and founding member of the pop/rock band The Voodoo Jets - doesn't see himself ticking off any particular box in the musical world. "I think music is interpreted so differently by every single listener," he reflected.
"I guess I would like people to know that there's a certain musical and lyrical ethic to the songs that I compose that are based on a long journey. My father was a music professor at Boston University for 45 years. It was a very intense classical music household. I was not allowed to listen to popular music as a child."
Yet pop music found its way into his life anyway. "I remember very distinctly listening to a vacuum tube table radio under the blankets at night, when I was supposed to be sleeping," he continued, "and listening to Neil Sedaka's 'Laughter In The Rain,' "Shannon' by Henry Gross, some of these like iconic 70's pop songs that just completely opened my eyes to the whole world of magical harmonies in pop music."
"People ask me what style of music I play," Micah commented, "and piano-based singer-songwriter is as close as I can get to an answer."
Indeed, he's an artist that you can't categorize. He's a little bit of old school and new school, creating songs that can be enjoyed by a broad audience but which are complex enough that they're much more than pop tunes. So where would we even properly start appreciating his work?
"There's a song called 'Running Sideways,' and then there's a song that I would love people to check out called 'Things I Know,' which is actually the title of the new EP," Micah suggested.
"'Running Sideways' is just kind of a classic modern pop song, with really carefully layered harmonies and my sort of Jakob Dylan-ish deep voice. 'Things I Know' is a sharp turn, a dramatic departure, and it's as close a tribute to a Cole Porter-esque song as I can manage. I think the two of them are so different, yet it's clearly the same artist."
Micah released Things I Know in December, and there are other songs he's looking forward to releasing. "I'm definitely going to go back to the studio," he told us. He's currently collaborating with guitarist Marc Shulman, best known for his work on several major Suzanne Vega records.
"I never stop critiquing my own work, but at this current stage in my career - I've logged thousands of hours live and in studio - I don't put it out until I'm proud of it," he added. "I work diligently at creating something I think is interesting."
He's also an advocate for great sound, not just in making music, but in listening to it, too. Micah reminded us that playing it on your phone or even your computer isn't the same as hearing an artist live or even on proper stereo equipment. "There's a tremendous amount of time and energy in making the recordings. It doesn't bother me that people check them out on YouTube or on their iPhone or even streaming services," he reflected.
"But it does bother me as an artist that you put all of that effort into recording, and end up with most people listening on earbuds on an iPhone. It's great to be able to lose yourself in a portable device, but you're not hearing 20, 30 percent of what an artist does." It's time to broaden your musical horizons, starting with checking out this great artist.
You can check out Micah's EP Things I Know on iTunes. For more on Micah, be sure to visit his website (micahsheveloff.com) and follow him on Twitter (@playanykey).
(c)2014 Brittany Frederick. Appears at Starpulse with permission. All rights reserved. No reproduction permitted. Visit my official website and follow me on Twitter at @tvbrittanyf.