Meet 'Real World: D.C.' Star Erika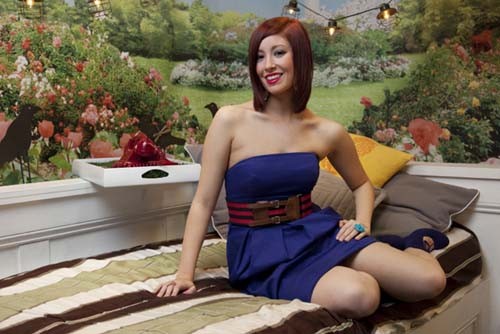 Erika Lauren Wasilewski
stars in MTV's 23rd installment of
The Real World
. This season the cast takes on Washington, DC and according to Erika, it is more than just making out in public.
Erika is a Midwestern girl who grew up in Chicago and recently graduated from a Chicago art school who loves to rock and loves her adoring boyfriend. She started dating her BF three months before she left for the show and has dealt with depression but worked around both to become a strong independent young woman with big city dreams.
Starpulse caught up with Erika during the holiday season and take a minute to get to know the newest cast of the Real World.
Starpulse: You are from Chicago, are you in the city right now?
Erika:
I am not, I currently live in Cleveland, OH but yes, I am from Chicago. I spent the last two years living in Wrigleyville and before that I lived in the South Loop downtown.
Why did you move away?
Well, I graduated from school (Columbia College) so I did not have much attachment to the city and you know how much rent is there, and I was looking to live somewhere else and ready to try something new. My best friend, who is now my boyfriend, lived here so I was like it is another bigger city and there are still opportunities here and I wanted to move closer to him.
Where did you meet your boyfriend?
Well, he is a musician and so am I and we kind of crossed paths in former bands. His band used to play in Chicago a lot and I would go see them and we kept in contact over the years and stayed in contact and here we are now.
Why did MTV pick you for the Real World DC?
(Laughing) You know, I have no idea. I want to say probably because I am into music and I definitely have a lot of ideas and new music concepts. I did have a past of going through depression when I was younger and I definitely pulled myself out of that. But I could have never seen it coming, ever, and I went to the tryout on a whim.
What makes your cast different than all the rest?
It is hard to say whether it is better or worse because it depends on who is doing the judging. This season is definitely a little bit deeper because we did work for really important causes. I think the focus is more about real topics as opposed to partying. I watch the show a lot and we did not match up with the typical stereotypes; we had different opinions and personalities.
What job did you have in DC?
Well, I kind of did a few things because some things did not work out because of some of the constraints with the show. I did volunteer for an organization called Girls Rock DC, where I helped put on events for underprivileged girls. It was a weeklong camp and they learned how to play instruments and they put together bands and they did a live showcase. I would have done more with that organization had I found out about it sooner but I also worked at Halo Lounge, which is a gay nightclub and I did marketing for them.
Were you a fan of the Real World before?
I might be the only person in the house that is a reality TV junkie (laughing). I love the show I have been watching it ever since I can remember and I always thought, "wow, how cool would that be to be one of those people." I never thought I would get the opportunity but when they came to my town I gave it a shot. I love the show and it is really cool.
Are there any Real World alum that you love?
I have to say Sarah from Brooklyn because I love her tattoos and she is a total rocker chick like me. I have always thought Mike The Miz is hilarious and I did get to meet Mark Long and he is very cool. Honestly, I really like everyone and hopefully I get to meet a bunch of them.
What other reality shows do you like?
I watch the Challenges and I think they are very entertaining and I wonder if I could ever do half the stuff they do on there. I would be willing to try it once and I am also a junkie for all of those Rock of Love and Flavor of Love shows (laughing) and I think they are very entertaining. I think it is interesting to watch a whole bunch of people go after the same guy or girl.
Will we see you on a Challenge?
Um, well, it is not up to me, it is up to the casting department. But I have definitely expressed my interest. I already have my strategy planned out if I were to make it and hopefully I will be able to do a challenge or two.
What is your strategy?
Well, I am small and I think a lot of people will underestimate me and right when they do that I pull out my fire and exceed their expectations.
Did you enjoy DC?
DC was different than any where I have been to because it is so politically charged and every where we went we met people that worked for the government or some kind of cause. It was a lot more of an educated conversation with the people of DC than I am used to (laughing) and there is a lot of diversity and I really liked it.
Can we expect some drama?
There would not be a show without drama, so of course there are fights and drama! (Laughing) But this season the drama and fights are more about causes and opinions about real world problems as opposed to "you stole my socks!" drama. It was more about strong opinions about beliefs and causes and that is a little bit different than prior seasons.
Describe the casting process.
I got lucky because I sent in an email with a short bio and a couple pictures and then I had a chance to get VIP to skip the line. So they replied with the passes and I got to bring a friend and I went in for the interview and made it past that round and so did my friend. From then on it was all individual interviews and it was all about being honest and telling them all about yourself.
How cool was the Real World house?
I come from a middle class family and I have never lived in something that nice. The last apartment I lived in was a 350 square foot studio; so I go from that to lots of square feet and multiple floors and the decorations were beautiful. The coolest thing about the house was all the art was from local artists. There was also a music room which I was ecstatic for because I could not believe they had a place for us to get our work done.
Real World: Washington D.C. | House Tour


Did you get along with your castmates?
For the most part I got along with everyone and there are different personalities but once you take the time to get to know everyone it is a lot easier to accept people. I learned how to get along with people and accept them for who they are and I think it has paid off.
Did you get homesick?
I definitely got home sick and come from a very close-knit family so it was very hard to be away from my parents. I did not get to talk to my parents that much and I also missed my boyfriend since we just started dating right before I went on the show but it ended up working out for the best.
Catch Erika and her other cast mates on the Real World DC starting Wednesday December 30 at 9PM CST.
Also check out:
'Real World: D.C.' Star Emily Schromm
Story by
Matt Anaya
Starpulse contributing writer
Twitter.com/shmattshmanaya