Meet 'Prisoners' Star Kyla-Drew Simmons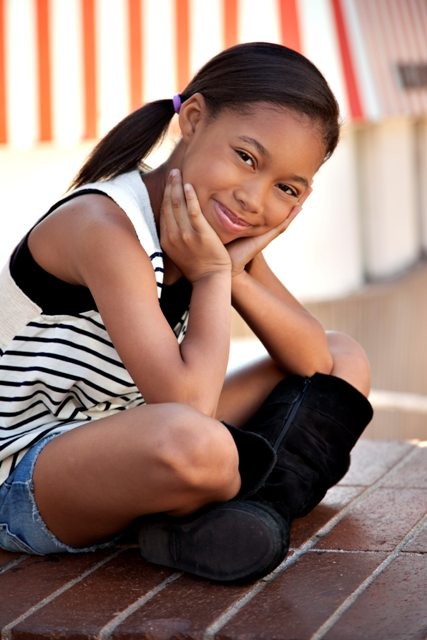 If you're going to the new Hugh Jackman flick Prisoners today, you'll be seeing young actress Kyla-Drew Simmons. She plays Joy Birch, the daughter of Franklin Birch (Terrence Howard) and Eliza Birch (Zoe Borde), who is abducted on Thanksgiving along with her best friend Anna Dover (Erin Gerasimovich). BFTV snagged a few minutes with Kyla-Drew recently to talk about her pivotal role in a big movie.
"It was great," she told us of the experience. "My favorite part was getting to meet the cast and crew - getting to meet the big, big stars." Aside from Jackman and Howard, Prisoners also stars Jake Gyllenhaal, Academy Award nominee Viola Davis (The Help), Academy Award winner Melissa Leo (Olympus Has Fallen), and Maria Bello (FOX's Touch).
If you somehow haven't yet heard of Prisoners, check out the trailer from the Toronto International Film Festival.
For Kyla-Drew, her role as a kidnapping victim in Prisoners enabled her to step way out of ordinary life, which is what drew her to acting in the first place. "My favorite part is that I can play different roles and not just be Kyla-Drew," she explained, adding that in the future, "I'd really like to play a bad girl."
She also emphasized how much she enjoyed working with everyone who was a part of the film, whether it was her fellow actors or the provided on-set teacher. "Her name was Miss Stephanie, [and] I really enjoyed going to school with [her]," she said.
Acting is just one of Kyla-Drew's many hobbies. "I really love to dance," she added. "I love to do karaoke. I like to shop [and] go to the movies." What's on her must-watch list? Dance Academy, the CW hit The Vampire Diaries, and she counts herself as a fan of actress Kate Hudson.
When it comes to being in front of the camera, someday Kyla-Drew hopes to join Leo in the ranks of actresses who've hoisted an Academy Award. "I want to win an Oscar," she told us. "I'm going to start practicing my acceptance speech!"
Prisoners is in theaters now.
(c)2013 Brittany Frederick. Appears at Starpulse with permission. All rights reserved. No reproduction permitted. Visit my official website and follow me on Twitter at @tvbrittanyf.