Meet 'Once Upon A Time's' Magical Rose McIver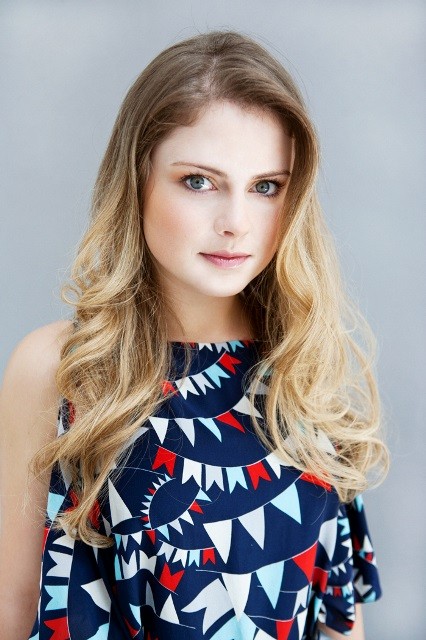 Rose McIver has a pretty charmed resume; she's played both a Power Ranger and the most famous fairy in pop culture. Currently, she's got recurring roles on two hit TV shows: ABC's Once Upon A Time and Showtime's Masters of Sex. BFTV sat down with Rose last week to chat about finding her own place in pop culture.
"There should be more than enough of me for the next little while," she quipped, referring to her double-recurring status. On Once, you know her as Tinker Bell. That's a well-known character on a show full of magical goings-on and high adventure. So how much does Rose have to keep up with what happens when Tinker Bell isn't in the picture?
"I'm interested in it and I want to know," she said, but told us that it really comes down to "as long as you understand your storyline. With Once Upon A Time, I need to be sure exactly what's happening with the group - with Hook in particular, and with Regina."
But Rose was a pop-culture favorite before she became Tinker Bell; in Power Rangers RPM, the 2009 season of the apparently immortal Power Rangers franchise, she played Yellow Ranger Summer Landsdown. So what's more interesting - playing Tinker Bell or playing a Power Ranger?
"They're [both] exciting things that you never think you're going to do. It's sort of surreal when you start realizing the impact that it has on people," Rose said, adding that which role she gets recognized for depends on where she is. "If it's a primary school, it'll be Power Rangers. I did a couple of Disney Channel films as well. Tinker Bell obviously has a little bit of a following at the moment!"
She doesn't always have magical powers, though. For those of you who want to see a more down-to-earth Rose, "Coming out in January is a film that I did called Brightest Star, and that's a film that I'm really proud of," she said. "That's something that I feel is really different stylistically as well."
In the romantic comedy-drama, Rose plays Charlotte amongst a cast that includes fellow TV veterans Chris Lowell (Veronica Mars), Jessica Szohr (Gossip Girl), Allison Janney (The West Wing), and Clark Gregg (Agents of SHIELD). That put her in the same film with someone she admires.
"Allison Janney, I'm such a big fan of," she enthused. "Especially the way she conducts herself on a personal level, it's so beautiful. She's this fun, gracious person."
Fairy dust, Power Rangers and working with great talent - if Rose's career sounds like one that you'd fangirl over, that's okay, because she has that same feeling, too. "I feel like there's always at least one little moment on every project that I do," she reflected. "I hadn't even realized that I was playing Tinker Bell when I booked [Once Upon A Time]. They only told me after the fact that I was going to take over this iconic character. It's definitely really special that for a certain large audience, I'm going to represent that character."
When it comes to the type of parts she's hoping to find in the future, variety is the most important word. Rose told us that she'll be happy "as long as they keep coming and the variety keeps coming. I've been fortunate so far that there's been diversity in the roles that I've been offered.
"I also have a role model back in New Zealand, a woman called Miranda Harcourt," she continued. "She's an actress and a writer. Her willingness to stay open to material is really great. I read a lot, and I try to watch and listen to diverse material."
With all the adventures she's already enjoyed through her memorable characters, how can Rose possibly evaluate her career? "I think if I manage to juggle a personal life that I'm really happy with as well," she continued. "As long as I manage to maintain balance, that's kind of the mark of success to me. I'm very fortunate at the moment with the projects I've been working on." And those shows are fortunate to have her.
You can catch Rose on two different series on Sundays: ABC's Once Upon A Time at 8 PM ET/PT, and Showtime's Masters of Sex at 10 PM ET/PT. You can also find her on Twitter (@ImRoseMcIver).
(c)2013 Brittany Frederick. Appears at Starpulse with permission. All rights reserved. No reproduction permitted. Visit my official website and follow me on Twitter at @tvbrittanyf.