Meet 'Nikita' and 'Hemlock Grove' Actress Eliana Jones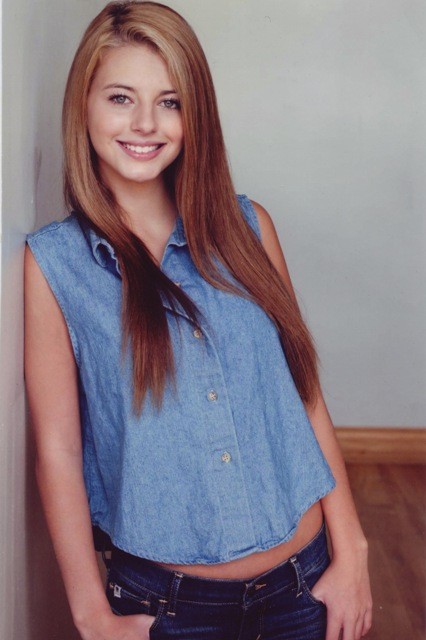 As Nikita wraps up its third season (and prepares for its final run sometime next year), it's time to meet a talented actress who was with the show at the beginning. Eliana Jones played the young Alexandra Udinov, and went on to be one of the players in Netflix's horror series Hemlock Grove. BFTV recently chatted with Eliana to find out more about both roles - and also more about this up-and-coming young actress.
The Canadian native came to acting after spending six years as a gymnast, when her mother took her to an acting class. "I went and I decided this would be really interesting and I wanted to pursue it. I quit gymnastics and I started taking acting classes," Eliana explained. "I think it's only been the last year that I've decided I actually want to do it as a career. After I booked Nikita, I really just got into it."
Eliana played the young version of Lyndsy Fonseca's character Alex in nine episodes of The CW's spy drama, beginning with the fourth episode of season one, "Rough Trade," in September 2010 and making her last appearance in the second season's "Pale Fire" in January 2012. She was the one under the bed in all those fire-engulfed flashbacks. "I remember it so much," she said of the experience. "It was memorable because I got there at like six o clock at night and I ended at around five in the morning. I only had one line but it took so long to make the set and set the fire.
"I was so excited to come back for more [episodes]," she continued, adding that she's still in touch with the Nikita cast even though she's no longer on the show. "Everyone's so amazing," she enthused. "They just had their third season wrap party and they invited me to it. Maggie [Q] emails me all the time."
After Nikita, Eliana landed the recurring role of Alyssa Sworn on Netflix's Hemlock Grove, which also stars Laurie Fortier and Emilia McCarthy - the latter of whom has become one of Eliana's best friends. The actress didn't want to give anything away when it comes to the limited series about a dangerous Pennsylvania town, based on the novel by Brian McGreevey, who executive-produced the adaptation.
"All I'm going to say is the tenth episode ["What God Wants"] is probably my favorite one, because Emilia and I, we had so much fun filming it. We completely got into it and we thought we did a really good job," Eliana told us, adding with a laugh that she wants everyone to know that "I'm actually not my character in Hemlock Grove. I'm not like that!"
She also has a family film coming out later this year, Step Dogs, in which she plays Lacey, a fourteen-year-old who teams up with her new stepbrother and the family pets to defend their home from would-be thieves while their parents are away. No release date has yet been announced for the flick.
With a relatively new career, what would Eliana like to see in her future? There are a few actresses she'd love to collaborate with. "I would adore working with Abigail Breslin," she said. "I recently watched The Call and I was at the edge of my seat, bawling my eyes out. I almost had a heart attack. I also had an audition for Anna Faris's show [Mom] and if I had gotten that, I would've had a heart attack again!"
"Having established people in the movie gets me more excited, because you'd be able to work with them," she continued. "But any script I get, I'm so fortunate. During my exam week, I had at least two [auditions] every day. I have so much on my plate with acting and school - that's pretty much all I do."
She might be busy trying to make her name in the entertainment business, but all the hard work and schedule craziness hasn't tempered Eliana's winning personality at all. Her enthusiasm for her newfound career is infectious - you can tell just from listening to her speak not only how happy she is to be a working actress, but also how much she appreciates the people who've been a part of each of her projects. She has a boundless energy that any of us would be lucky to possess. With her spirit and her work ethic, she'll go far. Keep an eye out for this promising young actress.
You can follow Eliana on Twitter (@ElianaJonnes) and stream Hemlock Grove on Netflix now. The Nikita season finale airs tonight at 8 PM ET/PT on The CW.
(c)2013 Brittany Frederick. Appears at Starpulse with permission. All rights reserved. No reproduction permitted. Visit my official website and follow me on Twitter at @tvbrittanyf.