Meet 'Killer Women's' Breakout Star Marta Milans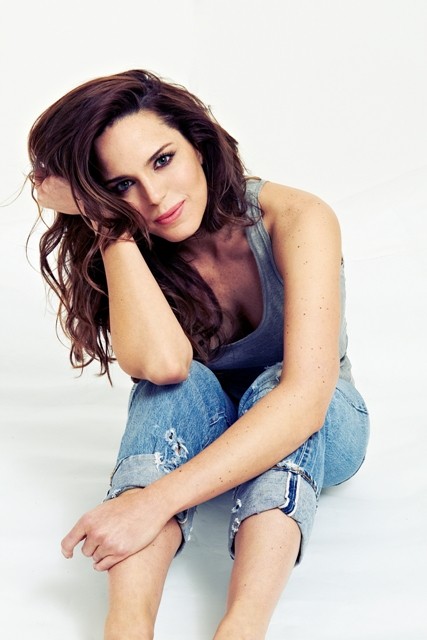 One of the great things about ABC's Killer Women is that it's introduced us to Marta Milans. As Becca Parker, the strong-willed sister-in-law of Molly Parker (Tricia Helfer), she's shaped her character into so much more than a supporting player in the show. Even though we haven't seen a whole lot of Becca, audiences can already identify with her devotion to her family and how she doesn't take any nonsense. She's become one of those characters we want to spend more time with. BFTV recently had the opportunity to chat with Marta about bringing Becca to life, and taking her career to the next level.
"Becca is a very, very strong woman with a lot of character, a lot of fire in her. She's a Mexican woman who came to the United States at a young age, and married Billy, and made a life for herself with Billy and her two kids," Marta explained. "She's kind of the family anchor. Tricia [Helfer's character Molly] is the badass tough woman who's going to save the day all the time, but in her personal life, she's going through a struggle. The opposite of that, that's who Becca is."
"It was about time that they portrayed in mainstream American television a character that is just like the rest, an equal, but she just happens to be not from here," she told us. "And that, for me, is really groundbreaking. [The show] doesn't stereotype her."
"I got her. I understood her," she continued. "I know how she'll react to the situation. I know what opinions she'll have. It was such a blessing to be lucky enough to get a part where every single time, I just know what she'll do. That just liberates me as an actress so profoundly."
Playing Becca is not only a chance for Marta to shine as an actress, but also an opportunity for her to showcase other talents. "I'm a singer, too, and in [next week's] episode five, you're going to get to see Becca singing and dancing," revealed Marta, referring to the quinceanera scene teased by Killer Women EP Hannah Shakespeare. "That's kind of exciting to me. I've been singing all my life, but not professionally."
The role also has her working opposite one of TV's best actors, Michael Trucco, with whom she's already formed a great on-screen chemistry. "Shooting with him has been a gift from God," said Marta of her co-star. "He's been the person that I've obviously had to work with most, [and] every single time that we've been together, every single scene that we work on, having somebody that gives you so much, you're aware of creating something special."
Whatever becomes of Killer Women, there's no doubt that Marta has left a positive impression on us, and that the show marks an important milestone in the Spanish actress's already considerable career, which includes appearances in the movie Shame and on TV in Law & Order: Special Victims Unit.
"This is a little tiny reward for all these years of working hard and trying to lose my accent and trying to get better at my craft," she continued. "I never left my career in Spain, but put it on hold to try to do mainstream American work. I could've stayed in Spain. I got offers to do things right away, [things that] would give you peace of mind, would give you money and a body of work. I was like 'No, I want bigger and better,' and really pushed myself hard enough, and now it's paying off. I can say that's one thing that to this day I'm proud of, having stuck to what I ultimately wanted."
The only real surprise when it comes to Marta is that it's taken us this long to recognize her. In addition to her acting work in both Spain and the United States, she graduated from New York University with a double major in Acting and Art History, is fluent in a half-dozen languages (she's currently studying a seventh), and is maintaining her family business as well as various charitable efforts. We're hard-pressed to find something that this talented, beautiful, down-to-earth actress can't do.
"We have an organic goat cheese farm in Spain. When I'm not shooting, I important my family's cheese in the United States," Marta told us. "I launched at Whole Foods on the East Coast. Hopefully in the next few months I'll be able to take it to the West Coast." You can find out more about Santa Gadea Organic Goat Cheese by visiting the company website (santa-gadea.com).
Marta is also involved with Art of Elysium, a non-profit organization that focuses on bringing art to ill and developmentally disabled children in both Los Angeles and New York, whose other supporters include BFTV's friend Jesse Macht. You can get involved with Art of Elysium via the organization's Facebook page (facebook.com/TheArtofElysium).
Whether it's through her charismatic performance as Becca Parker on Killer Women or just how wonderful of a human being she is personally, Marta has won us over. Her starring role in the ABC series should be the start of even greater success for this talented actress. "It's been a long road, but I'm really thankful," she reflected. "I wanted it badly enough, and I was given the opportunities, and I made the best out of them." Hopefully, for her, the best is yet to come.
Killer Women continues tonight at 10 PM ET/PT on ABC. You can also keep up with Marta by following her on Twitter (@martamilans).
(c)2013 Brittany Frederick. Appears at Starpulse with permission. All rights reserved. No reproduction permitted. Visit my official website and follow me on Twitter at @tvbrittanyf.