Meet Ian Patrick Of ABC's Fall Comedy 'The Neighbors'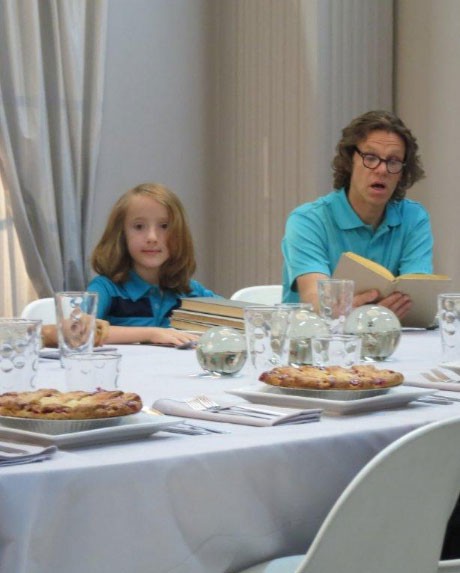 One of the more unusual of the new comedies coming to ABC this fall is The Neighbors—originally scheduled to premiere after Modern Family at 9:30 pm ET, but now slated for 8:30 pm ET on September 26.
UPDATE/CLARIFICATION: It will air its first episode at 9:30 pm ET on September 26, but will then move to 8:30 pm ET the following week.
A single camera comedy from Dan Fogelman, the writer of Cars, Cars 2 and Tangled, the show finds the Weavers, a New Jersey family, that finds out after they move into a gated community that their new neighbors are all aliens called Zabvronians pretending to be human.
It's a high-concept show to be sure, but producers and ABC have said it's grounded as a family sitcom. The family quickly become friends with the aliens, who have never met other human beings before, and find out they share a lot of the same problems and issues that humans do (Like family and marriage).
I recently had an opportunity to interview one of the stars, Ian Patrick. Ian, 9, portrays Dick Butkis—all of the alien characters are named after sports superstars—one of the main kid aliens in the neighborhood. Ian was also recently seen in the film Wanderlust, a 2012 comedy from Judd Apatow and also starring Jennifer Aniston and Paul Rudd.
For someone who doesn't know anything about The Neighbors, or hasn't had a chance to see any of the trailers, how would you describe the show?
It is about aliens who come to Earth to find a new home because their home planet temperature keeps increasing. When they first get to Earth they take on human form and buy every unit in an expensive and secluded New Jersey housing development.
Then after waiting for ten years and not hearing anything from their home planet, one of the alien families decides to leave and go back to their home planet. This leaves one of the units available and the human Weaver family buys it without knowing that everyone else in the housing complex is an alien. When the Weavers find out they are really scared, but decide the aliens are friendly and decide to stay. The aliens then begin learning and experiencing everyday human life and events in New Jersey.
In my role as Dick Butkus, I play the part of a really smart alien kid.
Getting to play one of the aliens you get to do some funny alien-type acts. What's been your favorite alien quirk or joke you've played so far?
As aliens, we get our nourishment through our eyes by reading and cry green goo from our ears. One of the funniest parts is when I transform from human form to alien form in front of my human friends.
Will the show have ongoing plotlines? Or is it going to be very episodic, in that people can watch any episode they want and not have to worry about an ongoing storyline?
Each episode is funny on its own and you don't have to see the earlier episodes. However, sometimes there is a little carry over. Like in one episode we go to the mall to buy school clothes, and then the following episode is about me and my alien brother Reggie Jackson going to a public school for the first time.
The show is set in New Jersey. I grew up in and still live in New Jersey, so this pleases me. Do you guys film in New Jersey too?
We haven't yet; right now we are filming in Los Angeles. Hopefully we will get to in the future.
Describe working with the cast. Any fun stories you've had on set so far that you want to share?
Every episode is really funny and it is really great working with the cast and crew. They are all fantastic, just fantastic.
The creator of the show, Dan Fogelman, has a really impressive resume, working on some classic Pixar films like Cars and Cars 2. What's it been like working with him so far?
I think Dan is great. He is a great writer and he is also such a funny and nice person. 
Looking at your resume, you've done mostly film roles so far... what made you want to come to TV? And what made you want to do this show?
I have always wanted to be a part of both film and TV, and when The Neighbors came along I thought it was wonderful opportunity to work on TV.  I like the show because it is something different and it has such a funny storyline.
You're only nine years old, but you've been in a ton of projects already, including recently in Judd Apatow's Wanderlust. Besides The Neighbors (I'm assuming), what's been your favorite role to-date?
Working on "The Neighbors" has been so fun and I love playing getting to play an alien.  Besides that my favorite is probably my role in Wanderlust, working with Jennifer Anniston and Paul Rudd.  Working with such talented and experienced actors was such a wonderful opportunity and I was able to learn a lot from them.