Meet Hollywood Makeup Expert Todd Tucker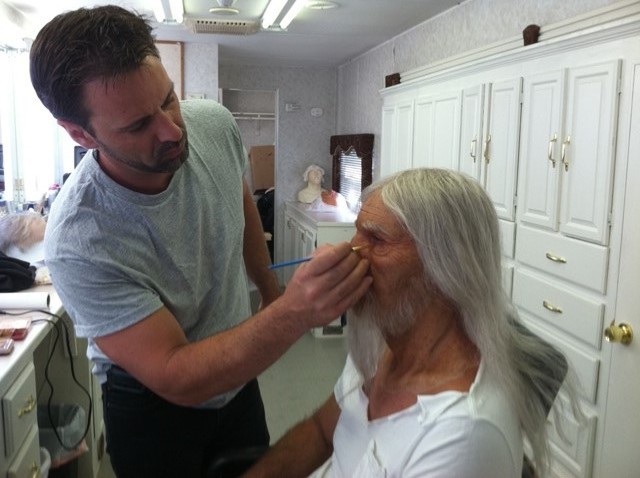 You could say Hollywood makeup wizard Todd Tucker was born for the job. "I'm an only child who spent every weekend in the movie theater," he told BFTV when we connected with him to find out how he transforms actors. Todd is an accomplished makeup artist who's done everything from be on set physically applying makeup to cast members, to being the creative director overseeing a team of professionals, to now being the President and Creative Director of effects company Illusion Industries, which is making waves in the industry.
"We've done eight films that are all coming out this year," Todd said. "The first film we did was GI Joe: Retaliation. We have a really cool Mafia drama coming out called The Iceman. We have The Smurfs 2 coming out. I'm really proud of this company. I've got a great team behind me and that means a lot. I'm very fortunate that way."
Over his career, Todd has worked on everything from huge movies (GI Joe, Transformers: Dark of the Moon, Watchmen) to smaller movies (Dylan Dog: Dead of Night) and TV shows (Southland, Sons of Anarchy). And unlike actors or directors, he doesn't have reviews or box office receipts to judge by. So how does he evaluate the success of a project? "We have no control over the final film. All we can control is our part of it. Maybe our makeup looked great, but the film wasn't great," he explained. "What's great is when you're working on a film and the whole thing works. That's the payoff for us, is to see somebody truly enjoy what we've done."
"The biggest change in the industry over the last ten years is that the budgets have come down quite a bit and you have less time to create the stuff," he continued, adding that "The cameras that have been used now are really strong and they see everything. The trick is to be able to create these quality characters in a much tighter, much faster budget. But it has to be twice as good because the camera's going to see it."
What makes Todd unique among artists is that he knows first-hand what the people he works with experience. "By putting yourself in the other person's position - I played a lot of creatures in the show Charmed and other movies - I understand what it's like to be in full creature makeup for fifteen hours!" he said.