Meet 'Hemlock Grove' Resident Emilia McCarthy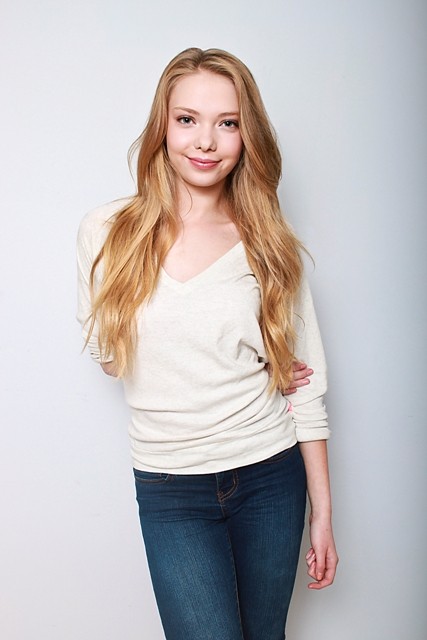 With the arrival of Hemlock Grove on Netflix, there are some interesting - and potentially disturbing - characters about. One of the seemingly more normal residents of the fictional Pennsylvania town is Alyssa Sworn, the daughter of the town sheriff (Battlestar Galactica's Aaron Douglas) who appears to be just another teenager...but don't sleep on her, because Alyssa has a huge secret that could affect the entire town.
BFTV recently spoke with actress Emilia McCarthy, who plays Alyssa, on what brought her to Hemlock Grove and her own unique background.
"There's a lot of things that are going to happen that you wouldn't expect to happen and I think that's huge," said Emilia, who's sworn to secrecy about what exactly Alyssa's hiding. Although it involves werewolves and vampires, she added that "It still has a mystery aspect. This show is very unique, definitely."
"I've never done anything in this genre before and it was very intriguing to me and interesting," she continued. "Everyone in production and all the actors, they're just so sweet and so comfortable to work with. I had a blast and I would love to keep working on this show."
The recurring role of Alyssa is a great opportunity for Emilia to introduce herself to a worldwide audience, after mostly having made her name in her native Canada. She began her career playing the character of Laura in two TV movies, Booky and the Secret Santa and Booky's Crush, for Canadian broadcaster CBC. "They're really cute movies actually and I was quite little. I think I was about eleven," she reflected. "I was kind of in my awkward stage but I got past that! I think it's just cute to reminisce and watch those."
"It kind of came naturally," said Emilia of what motivated her to become an actress. "Honestly, it was just kind of a passion. I woke up one day and I'm like, 'Dad, Mom, I want to be an actor.'"
Although she's still waiting for her breakout role, she already knows that she made the right career choice, as evidenced by "the moments when we're filming all night and it's hard work," she added. "Knowing that I still like what I'm doing, and I'm still enjoying it when it's obviously the hardest part of the job."
Emilia is not your average young actress, however. She comes from a multicultural family, is fluent in three languages - English, Spanish and French - and is also an accomplished dancer. "[That's] another huge part of my life," she explained, having danced in productions of Hairspray and Aida. In addition, she works with a local theater company and self-published a book when she was just seven years old.
Now fifteen, Emilia is already setting goals for what will hopefully be a long career. She'd love to appear on ABC Family's Pretty Little Liars. "I love that show," she gushed. "I've thought about this very thoroughly, and I've decided [the character of] Hanna, I could be her long lost sister. I feel like we kind of look alike!" She already has one tertiary connection to that series: last year, she guest-starred in an episode of The CW's Beauty and the Beast remake alongside Yani Gellman, who had the recurring role of Garrett Reynolds on Pretty Little Liars for three seasons.
But she also has ambitions beyond just favorite roles. "I want to be in a movie that is a good movie, and I want to be recognized as a genuinely good actress," she said. "I don't want to just be known as another celebrity. I'd rather be known as a good actor who likes the job. That's really important to me." Hopefully with the debut of Hemlock Grove, Emilia will find even more opportunities to work toward that dream.
You can now watch all of Hemlock Grove's first season only on Netflix. You can also follow Emilia on Twitter (@emiliaamccarthy). For more on the series, you can check out my interview with another Hemlock Grove resident, Laurie Fortier.
(c)2013 Brittany Frederick. Appears at Starpulse with permission. All rights reserved. No reproduction permitted. Visit my official website and follow me on Twitter at @tvbrittanyf.