Meet Disney's Newest Sensation, Bella Thorne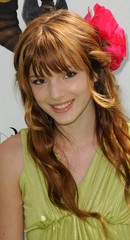 You know how it goes with these Disney kids. Put 'em on a new Disney Channel series and watch out. Bella Thorne stars on the new Disney original series Shake It Up as a high schooler who makes it onto a TV dance show, with her friend Rocky (Zendaya.) Could she be the next Miley Cyrus or Selena Gomez?
"Everybody's very different on Disney," Thorne said. "They're all themselves. Really, I'm just Bella so hopefully I can have the success that Miley, Selena, any of them had, but if not, what can you do?"
So meet Bella. She'll put her moves on display in the show. "You're going to see a lot of dancing, definitely a lot of dancing, some really sticky situations. CeCe and Rocky might get into a pickle. CeCe has these crazy ideas. I don't know where they come from."
The Thorne family is active in the industry, with Bella's brothers and sisters acting and modeling. "I'd always been doing modeling and my brother auditioned for a show. It was a commercial kind of thing. He was doing it and I saw him doing a taping. It was just so magical so I wanted to try it out."
She picked up dancing naturally. "I do everything. I do contemporary jazz tap. I just started taking choreography. I've always been doing a lot of freestyle so it was never really like professional."
Shows like Glee have made it possible for multi-talents to do it all in a single TV show. Thorne hopes Shake It Up can follow their lead. "I love how they did a Lady Gag theme. That was really cool because CeCe has a dream where she's in a spotlight dance and she's dressed like Lady Gaga so it was really cool."
At 13, Thorne is still just a normal kid with normal hobbies. "I like to paint. I do a lot of painting. I sketch, I sew. I like to make clothes and help out with my sister Dani."
Perhaps the Bella Thorne collection will go on display at a celebrity gallery. "Not right now. It's just on my wall, but maybe."
Shake It Up premieres November 7 on The Disney Channel. A preview episode will be available on Disney SVOD on October 31.