Meet DC Animated Universe Composer Frederik Wiedmann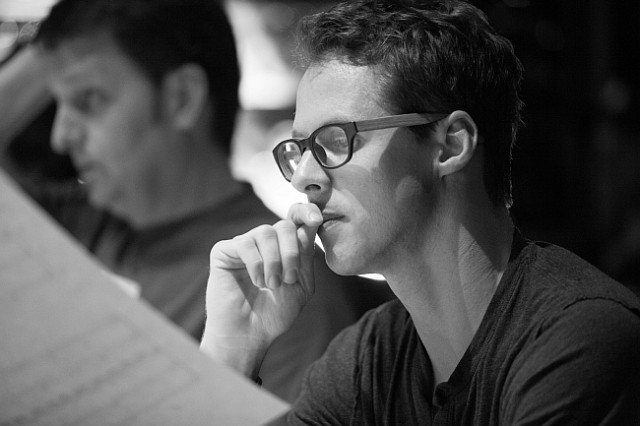 Frederik Wiedmann has become the go-to composer for the DC Comics animated universe, having scored Green Lantern: The Animated Series, the direct-to-video feature Justice League: The Flashpoint Paradox, and most recently the new series Beware the Batman. BFTV recently sat down with Frederik for a chat to discuss his adventures into superhero work.
The German composer didn't start out working in television. "I'm coming from a strong horror background. Coming from that trying to get into superhero, kids' animation, [was] kind of a big switch and on a lot of levels very challenging," explained Frederik, whose previous credits include Return to House on Haunted Hill and Mirrors 2.
"I was really lucky that I got the opportunity to be one of ten or twenty other composers to be able to demo for Green Lantern: The Animated Series, and based on that they selected certain composers to score a scene from the show. Eventually I got the meeting with the producers [and] they just believed in the music that I had and they went with it."
Although he's composed multiple projects in the DC Universe, Frederik told us there's no standard sound for the brand or for specific characters who might appear in more than one piece. "So far, they have been pretty much unique. When we did Justice League, we briefly discussed should we use the Green Lantern theme from the series when we meet Hal in that movie," he continued. "So far they've all been very much their own standalone projects. I think they're all treating them as their own little adventures. Especially for the TV show I'm doing right now, the concept was to not sound like any other Batman installment whatsoever."
His current work is pretty much a dream gig, as he's a fan of the sandbox he's now playing in. "I love animation and comic books," he added. "Not necessarily the DC line as much as other things. [But] I've always been a huge fan of Batman specifically."
Which made Frederik the perfect choice to come aboard the newest Batman animated series, Beware the Batman, which began airing earlier this year. "The thing about the Batman music is that the concept was kind of an abstract one," he told us. "What I was basically given as a direction was a couple of different band choices - New Order, Joy Division, Massive Attack, Daft Punk. Then this whole thing had to have a James Bond component, a little bit of rock, and then an atmospheric, dark [feeling] like Blade Runner.
"It was really interesting to see what came out of that concept," he continued. "I wrote ten to twelve pieces of music and just kind of conceptualized this idea. It really required me to figure it out myself. It was kind of an interesting and quite challenging process. It took almost like two months."
While animated projects can take a fairly long time to complete, depending on the type of animation, Frederik sees a generally complete product when it's time for him to get to work. "Most of what I've gotten from them has been finished and locked. There might be a few shots that might be animatics or very rough CG animation, [but] for the most part editorially the picture is done," he explained.
"If it's a CGI show, there will probably not be any lighting, which means all the colors are going to be dark and grey. [But] for animation it's mostly finished, and that's great because I can get a real idea of what it's going to be like. It's so much more inspiring to me as a composer."
What's his favorite piece that he's composed for DC? "There's one piece from Justice League, it's called 'Redux', it's a great piece," he told us. "It's a very emotional dark piece of music. It's the cue for the big revelation flashback in Justice League where we find out why the alternate universe became so screwed up. It's really just a sad and twisted piece of music." Frederik made a video from the scoring session, which you can check out below.
Perhaps the biggest key to being a great composer is also being someone who appreciates the finished product. "I'm a huge film music geek myself," Frederik revealed. "If I drive in the car and I'm by myself, I probably listen to some kind of soundtrack. I do that because I just love everything that's out there.
"There's a lot of people I admire greatly. I think in terms of animation, the person I think is absolutely outstanding is John Powell, and all his work for the Dreamworks Animation movies. It's some of the most sophisticated scores in Hollywood in my opinion. I do like Hans Zimmer; he's very good at coming up with a new concept. I like a lot of Christophe Beck. He does a lot of comedies but he's done a lot of really good dramatic stuff that I really like, such as Buffy The Vampire Slayer."
Then there's the satisfaction of a job well done. There's nothing like listening to one's own score on television. "I love doing that," Frederik told us. "I really enjoy watching the finished product. When I come across something on TV that I've done, I'll watch it. So far all my projects have great memories for me [so] to me, it's like a nice little trip down memory lane."
Justice League: The Flashpoint Paradox is now available on Blu-Ray and DVD; Beware the Batman airs Saturdays on Cartoon Network (check your local listings for specific channel and airtimes).
(c)2013 Brittany Frederick. Appears at Starpulse with permission. All rights reserved. No reproduction permitted. Visit my official website and follow me on Twitter at @tvbrittanyf.