Meet Chuckesmee, The Creepy Doll That Was Cut From 'The Twilight Saga: Breaking Dawn'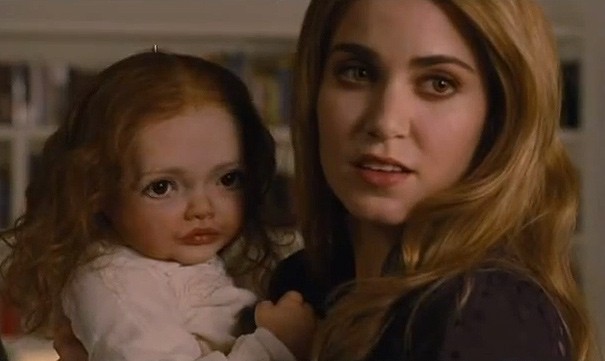 The "Twilight Forever: Complete Saga Box Set" was released on Blu-ray and DVD on Tuesday and, as with all sets like this one, it features lots of never-before-seen extras and bonus footage.

In fact, "Twilight Forever" includes 12 hours of features, and two hours of it is stuff that even the die-hardest Twi-hard has yet to see -- like the creepy animatronic Renesmee doll that, thankfully, wasn't used.

A new behind-the-scenes clip and interview with star Nikki Reed dives into the background of the doll that nearly became Bella (Kristen Stewart) and Edward's (Robert Pattinson) daughter Renesmee -- the half-vampire, half-human offspring of the two main characters who matures at a rapid pace in the final installment of the series, The Twilight Saga: Breaking Dawn - Part 2. Okay, not nearly -- this thing didn't have a chance.

Because of the way the child matures in Stephenie Meyer's book, director Bill Condon had to figure out a way to portray the precocious Renesmee. One such way would've easily sunk the series.

At first, producers opted for an animatronic doll over a computer generated baby, and the result ended up looking like a certain evil kids toy from another movie series, hence "Chukesmee" was born.

The three-foot animatronic doll was given the name after the Child's Play character Chucky shortly after cast and crew got a look at it for the first time.

"Chuckesmee was a giant misfire on all fronts," Condon told Entertainment Weekly back in August 2012. "Truly, it was one of the most grotesque things I've ever seen. It was a horror show! There was one shot where I call, 'Cut!' and suddenly she turns her head and mechanically stares right into the camera. It was incredibly disturbing."

Even Wyck Godfrey, who produced the doll for the film, said, "Chuckesmee is one of the most grotesque animatronic babies ever to not be seen on film."
Nikki Reed referred to it as a "creature" and asked that the whole world forgives her before learning that the producers opted to go with CGI instead.