'Medium' Recap: Will The Real Fred Rovick Please Stand Up?

It's not often that a guest star on "
Medium
" gets to play multiple characters at once, nor that they're involved in a serious case but played for laughs during the episode.
Diedrich Bader
is the guest star as Fred Rovick, a mysterious man that Allison is seeing everywhere for some reason. He is tied to the latest murder investigation but she is uncertain why.
The real case of last week's episode was about a pretty young woman who married a rich old man. When he revealed his cancer was in remission and he would be living longer, she loses her head and tosses him down a flight of stairs. Then she bashes his head in with a vase because he won't die easily. Devalos is handling the case, and it is a media frenzy.
On her way into the office, Allison meets a nice man losing all his papers in the parking lot. The weird thing is when she gets upstairs, he's there too, getting into the elevator. Then he's helping Devalos with his computer. Needless to say, she's pretty confused. Things get even stranger when she sees him outside in a dress walking a dog, and Joe has no idea what is going on. This is just a guess, guys, but obviously it's a product of Allison's powers, okay? You really think they'd be quicker to the game than this. Joe and Allison both get this random e-mail about their voting districts changing.
After dreaming about one him killing another him, she wakes up to find that Joe is him too. Ooooh so creepy. Allison points a sharp object at him, and only Ariel is able to calm her down. Diedrich Bader does a great job of impressions in this episode, because he has Joe's mannerisms down pretty well, and he actually is seen again later as Lee too. Fake Lee brings Allison to the crime scene of the shot man, and everyone she sees is the same guy. Including all the jurors, and she sees one juror (for the pretty woman case) agreeing to a bribe to cause a mistrial.
Allison puts it together that this man might be an identity thief, and everyone she sees as him are being scammed. Nice. He sent out the voting district e-mail. She goes to the bank and sees the real Joe there, but he doesn't seem to recognize her. She puts it together that it's the real thief, and he runs out of the bank. She's able to see everyone as they are now, and to keep their money!
Devalos, Lee, and Allison put together the information about the thief. His name is Fred and he's been going into houses as part of a geek squad. He steals their identities, including everyone who opened the e-mail from him. He actually is working with the beautiful young murderess and they used the money he stole to pay off the juror. It does appear to work and the woman gets her mistrial, but the last joke is on her: Fred steals all her money as well! Oops.
The side story is that Ariel babysits for a new child, and he's apparently a terror with an evil imaginary friend. It turns out the imaginary friend is a dead guy in a giant beaver suit. He was the mascot for a football team and died during the game, so he's always in the suit. He swears at first that it's all the kid's fault, but Ariel finds out he's the one that makes the kid do evil things. The kid's mom is a therapist and told the ghost's girlfriend to dump him, so he's feeling malicious now. Ariel manages to convince the kid that his imaginary friend is leaving, and that only his evil twin will talk to him now so ignore him. Go Ariel!
"Medium" is on CBS Friday nights at 9 PM EST.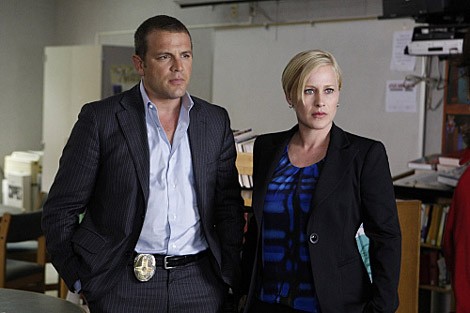 Image © CBS Corporation
Story by
Chelsea Doyle
Starpulse contributing writer
Follow Chelsea on twitter at http://twitter.com/mustbethursday.