'Medium' Recap: 'All in the Family'

"
Medium
" was especially great this week because it featured several well known guest stars, including
Amanda Detmer
(Final Destination) as Joe's sister Sarah,
James Van Der Beek
(
Dawson's Creek
) as potential villain Dylan, and
Morena Baccarin
(
Firefly
) as potential villain/victim Brooke. Way to bring it on with the excellent guest stars, "Medium!"
This episode is all about family; the fights they have, the love underneath, and sometimes the lack of love that causes problems. Allison dreams of a stranger, who turns out to be the woman Brooke, convincing her youngest daughter to shoot both her and Joe. Brooke and her brother Dylan come to Devalos asking for help finding their missing mother, who Devalos is old friends with. Allison gets slightly weirded out when she has a vision of Dylan threatening his sister with a gun from years ago, but it looks like the siblings have made their peace now. When questioned about it, Brooke admits she took out a restraining order on him but after a horrible car accident, he was there for her and they made up. Their mother at one point cut him out of the will, but as she got ill and he was there for her, Dylan was welcomed back into the family … albeit cautiously.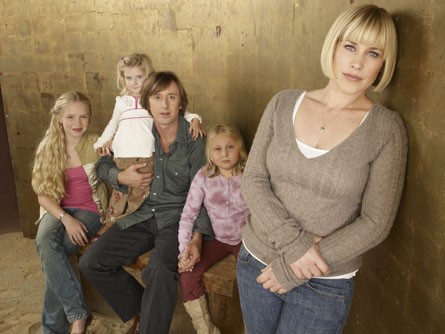 In between this story, Allison is having some trouble at home. Ariel is furious they won't let her go on a ski trip with a bunch of older boys (wow does that sound familiar to real life, cringe!), and Joe's sister Sarah is having marital problems. She is convinced her husband is having an affair, but Joe's father appears to Allison and lies that he is not so she'll go home. Allison finds out that Sarah is pregnant, and that then Sarah confesses to Joe that she had an affair first. She wants to work it out with her husband, and potentially the new child will find happiness between them.
Meanwhile in the real case, Allison has a dream about Dylan murdering someone and his fiancé at the time, Harmony, helping him hide the body and ditch the car. This happened years ago, however, so she is uncertain how it could have anything to do with their missing mother. This is one of the few cases on "Medium" which was quite difficult to figure out, even with all the clues, and it was great to have a real mystery. Most of the time the cases are easy, but the moral questions they raise are not. This is the other way around: interesting case, not very questionable morals! Then they find the mother's body murdered, and Harmony's DNA is all over it. Dylan's ex-fiance, who left him and ran to Europe. No one has seen her since. Hmmm.
Allison gets steadily more creeped out when she envisions Dylan and Brooke making out, and wonders if this is a 'Mother disapproves of incest and they kill her for it' storyline. Ew. Instead it is much more sinister. Years ago Dylan killed his sister Brooke, and when Harmony went to get rid of the car she got in a horrible accident. It disfigured her so badly that Dylan told them she was his sister, and they reconstructed her face to look just like Brooke. When the mother got sick, she asked Harmony to have her liver tested, and Harmony knew it would come out she wasn't related. So she killed her. Awesome. Great twist there, and all guest stars were fabulous.
Next week on "Medium," is Ariel missing?! Oh no! "Medium" is on NBC Monday nights at 10 PM EST.
Medium Stars:
Patricia Arquette
, Miguel Sandoval,
Jake Weber
,
Sofia Vassilieva
,
Maria Lark
,
David Cubitt
,
Anjelica Huston
Story by
Chelsea 'Dee' Doyle
Starpulse contributing writer