'Medium' Pushes The Boundaries With Blood & Gore In Latest Episode

Last week's episode of "
Medium
" had a twist that wasn't really that surprising, but it still worked out brilliantly thanks to great acting on all parts. The main guest star,
Danielle Panabaker
, did very well against Patricia Arquette and it's always great to see a strong vibe between Allison and her case of the week. The episode starts with Allison having a dream about a little girl being diagnosed with schizophrenia as her parents worriedly watch on. They catch her murdering a cat, which was incredibly disturbing even if you only see the feet and tail. Yuck.
Allison is called in to work because another schizophrenic woman named Keelin has broken out of the insane asylum. She killed her teacher from school who had an affair with her, and she has been catatonic for three years. Her shrink insists she did not seem violent, but she may actually be. For the past two months she stopped being catatonic but started repeating everything anyone else said. They are in a juvenile asylum so everyone is released at eighteen, and Keelin was nearly there. When she goes to Keelin's room, she meets her roommate Summer (played by Panabaker). Summer is the girl from her nightmare in the first scene, although now she seems fairly healthy and together. The shrink tells Allison she eventually murdered both of her parents in their sleep.
Things get a little shaky when Allison has a dream about Summer's parents being killed in bed. Wow was that graphic. This is an intense episode with a lot of blood and disturbing images, and it only gets worse from here. CBS is not pulling any of the gore out of the show; if anything they're pushing the boundaries. After the father's throat is slit and the mother is stabbed horrendously, we see that it is a boy calling the police. He says his sick sister has murdered his parents. Dum dum dum. This is Chad, Summer's brother.
Summer refuses to listen to Allison, because she swears she remembers what happened that night. Things get more serious when the Keelin case leads to the death of her shrink. He is found dead and her fingerprints everywhere. Allison sees his murder and that the brother is doing that as well, and he picks up the severed hand of Keelin to wipe all over the place. Do not eat dinner while watching this show. Allison is horrified, but Devalos can do nothing about it because there is no proof Chad did anything. Summer confessed to the murders of her parents, and Keelin's DNA is in the shrink's house.
Allison tries to convince Summer to turn against her brother. Instead what she does is murder him with her garden equipment in daylight. Nicely done Allison. It really is her fault that Chad dies here, and this continues to be true even when she (and the audience) realize that Summer planned this all along. She pretended to be ill to get away with killing her parents and then inheriting all of their money later on. The problem was she talked to her catatonic roommate Keelin and she started repeating everything Summer was saying to the shrink. He was blackmailing them and bam, he's dead, and so is Keelin. Summer shows her true colors to Allison then, but it's too late for her to get out of it now: they've found Keelin's body in her garden! Case solved.
In the side story, Bridgette has a new friend named Finn at school. He is a boy and she's right at the age to start noticing him, but she isn't sure if she likes him or not. She feels weird that she does not. She writes "I Love Finn" in her journal and thinks maybe she does, and Ariel starts giving her advice, but it turns out she got that from her little sister Marie who worships him. This upsets Bridgette because she wanted to be "normal," but Ariel points out that she drew very pretty pictures of Finn and liked him all along.
I was certain they might be going in the Bridgette-could-be-gay direction with that, since she kept insisting she did not like him at all and felt nothing. Guess not. This was a good episode with great acting from the guest star, who was truly creepy when she went evil, and Allison's smugness was deserved at the end when she called her out. Except she killed her brother because of you Allison. Don't forget that!
"Medium" is on CBS Friday nights at 9 PM EST.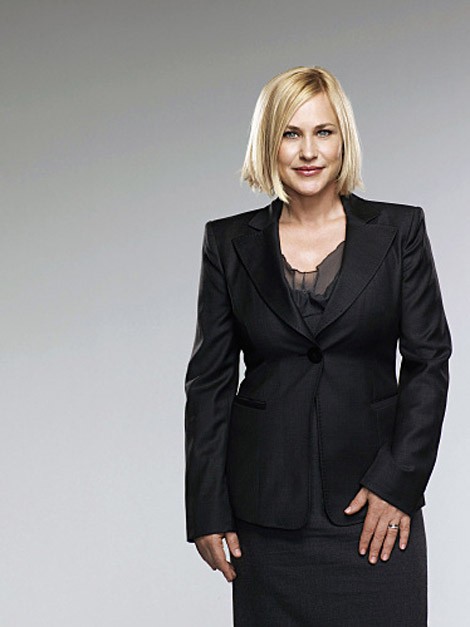 Image © PR Photos
Medium Stars:
Patricia Arquette
, Miguel Sandoval,
Jake Weber
,
Sofia Vassilieva
,
Maria Lark
,
David Cubitt
,
Anjelica Huston
Story by
Chelsea Doyle
Starpulse contributing writer
Follow Chelsea on twitter at http://twitter.com/mustbethursday.