There have been some very emotional "
Medium
" episodes in the past, but this first episode back from the holiday hiatus was the equivalent to a stab wound straight to the heart. It featured District Attorney Devalos, the wonderful supporting character who employs Allison Dubois, and his tragic past regarding his daughter Arianna. It must be said that Miguel Sandoval got his own daughter Olivia to play the role of Arianna, which made a lot of the emotional pain in the rest of the episode so much more real. They gave beautiful pictures of the two of them as she grew up, and it could not have been easy for him to do this plot with his real child.
On the anniversary of his daughter's sudden suicide, Devalos gets a card in the mail with a clipping of her story. Allison has a dream to start out the show of Arianna writing a letter to her father before committing suicide, and he's the one that finds her dead in her car. That's just awful; it's bad enough anyone would have to find her body, but her father? Harsh. He claims they never got a suicide letter, which puzzles Allison since she saw him get one from Arianna before finding the body. She gets a big jump on the case because as she walked to the door she saw a handsome young man putting the card into their mailbox.
Eventually he is identified as William Gerwin, the rich boy son of one of Devalos' former senior partners who convinced him to defend William in a rape case. Abruptly in the middle of the case a bunch of videos were found that proved William did rape that girl and many more, and he was sent to jail. He was recently let out on parole for snitching on his roommate, and he now is focusing on ruining Devalos. Why? That's a good question that isn't too hard to suss out, if you know the moral center of the DA. He found the tapes first, and it was him who gave them to the prosecutor. Devalos broke the law secretly, but he did it to convict a serial rapist.
However, William is pretty angry now and wants his former attorney to suffer for turning him in. He threatens to target a sweet nice girl named Jennifer for a new rape if Devalos does not turn himself in. Will McCormack ("In Plain Sight," "Brothers & Sisters") plays this role with creepy friendliness, and really does a great job as the villain. Allison is horrified and demands that Devalos do what he wants to protect the girl, even threatening to turn him in if she has to.
Then she gets the final piece of the puzzle: Arianna was one of his rape victims. One of the early ones. His rape of her was one of the things that eventually led to her suicide, that and her guilt over not stopping him and speaking up while she could. This is why he turned him in, and how William figured out what happened after he saw his rape victim as Devalos' daughter. In the end, however, Arianna the ghost steps in to set things right and get her revenge on William by having Bridgette send an e-mail to the crime boss that William helped rat out. He was killed and Devalos has no reason to turn himself in, just as long as he'd finally tell his wife the truth about what happened to their daughter.
The side story is about Bridgette working at the library because she has a huge late return fee, and she meets a scam artist she sees as a Nigerian Prince. She gives him money but he gives it back, and then she's really just there to help Arianna e-mail a crime boss. Creepy, Bridgette was technically involved with the murder of someone!
There are a lot of serious issues brought up in this episode about rape and suicide, and it was one of the more emotional episodes that we've seen in awhile on "Medium." Very well done, and it's great to see CBS is embracing the inner darkness of the show without any qualms.
"Medium" is on CBS Friday nights at 9 PM EST.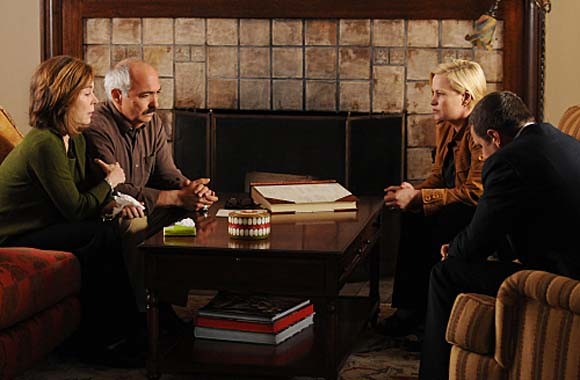 Image © CBS
Story by
Chelsea Doyle
Starpulse contributing writer
Follow Chelsea on twitter at http://twitter.com/mustbethursday.