Medeski, Martin & Wood Bassist Finds Brotherly Love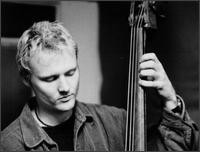 After intermittent musical collaboration that dates back to their childhood, brothers Oliver and Chris Wood (
Medeski Martin and Wood
bassist) have created 'Ways Not To Lose' (due March 7 on Blue Note Records), a stunningly spare and raw debut album of original songs.
The saying that artists have their entire lives to make a debut album has never been more true than with The Wood Brothers. Growing up in Boulder, CO, Oliver and Chris were encouraged to play music from an early age by their father Bill Wood, an alumnus of the storied Cambridge, MA folk scene of the late 1950s. Oliver recalls he first took up bass but remaindered it to his younger brother Chris after being smitten with the guitar. As teenagers they wrote together and even made home recordings. Eventually, as Oliver puts it, "I moved to Atlanta and became a southerner. Chris moved to New York City and became a Yankee." Chris would go on to world acclaim with
Medeski Martin and Wood
, playing the instrument his brother handed down to him.
Once in Atlanta, Oliver formed his own band, the blues-steeped
King Johnson
, and sat-in on the occasional Medeski Martin and Wood gig. A family gathering in 2004 convinced the brothers that their unique musical alchemy deserved more than occasional cultivation. They recorded nine of Oliver's original compositions, co-wrote two new songs - "Tried and Tempted" and "The Truth is the Light" - and added a cover for good measure, ( "Angel Band," a traditional gospel tune that fits seamlessly with the brothers' original songs).
Like the work of
Leon Russell
, early
Tom Waits
, or
Dr. John
, the songs on 'Ways' possess a timeless quality; their bedrock melodies and astutely observed stories sound instantly archetypal. Oliver sings lead vocals on most of the songs, with backing vocals from Chris. The songs are arranged just as the brothers conceived them - expressive yet economical, letting Oliver's coarse, impressionistic guitar work and Chris' nimble, note-bending bass playing speak volumes.
Kenny Wollesen
(
Bill Frisell
,
Tom Waits
) contributes a grab bag of textural percussion on several tracks as well.
The Wood Brothers will play The Living Room in NYC on December 17 and again on January 5. They'll also play an album release show at NYC's Joe's Pub on March 7. Stay tuned for news on additional gigs in the coming weeks.
Related Links:
MMW history, bios, discography & more...
More info on Oliver Wood's band 'King Johnson'