Meat Loaf Lands Texas Film Hall Of Fame Honor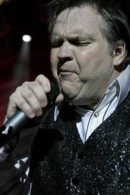 Veteran rocker Meat Loaf was honored for his movie work when he was inducted into the Texas Film Hall of Fame at a special ceremony on Thursday.

The Bat Out of Hell singer has enjoyed several cinema and TV roles since the early 1970s, including his famous turn as biker Eddie in The Rocky Horror Picture Show.

He was inducted into the Film Hall of Fame in his native Texas at the awards ceremony in Austin on Thursday - and he showed his pride by making a rare prize-giving appearance.

Meat Loaf tells Kvue.com, "When I won the Grammy, I didn't go. I've had my daughters pick up awards. I've had my band pick up awards. I don't go to awards. I'm here. That says it all."

Other Texans honored at the event include actors Barry Corbin and Danny Trejo, and writer Douglas McGrath.