Meat Loaf Hopes He Won't Get Noticed On 'House' Tonight

Performing artist
Meat Loaf
guest stars on tonight's episode of
House
. He was such a fan of the show that he got over his nerves for the grind of television. As his song said, he'd do anything for love, but he won't do that. Perhaps "that" in the case of House is taking any of Dr. House's abuse.
"I kind of fought back at him a bit," Meat Loaf said in a conference call. "We never had a fight. I was a little stern with him, I think. I remember one particular scene, the way I had intended to play it, it didn't turn out that way. It was that I was going to get into it, and we didn't do it that way, But I was going to get into his face more than anybody had ever seen on the show just because I wanted to be completely different."
Meat Loaf plays a man who comes into the hospital dying of heart failure, while his wife dies of respiratory failure. "The main thing that was perplexing was okay, how to be sick without playing sick. The casting on House is very good about getting 75% or 80% of their actors that come on that just figure it out. So that was the hardest thing because it's real easy to play sick, but to be sick is a lot harder. I remember we were shooting one scene and when we finished it I said, 'I'm glad we're not shooting anymore of these because I swear to God, I'd die of a heart attack.' My chest was killing me. I mean, it was hurting. I don't know really how I got there. I will confess that I was watching
Damages
. I just kind of watched
Ted Danson
playing sick. I went, 'God, he looks really sick,' so I just studied him for a little while."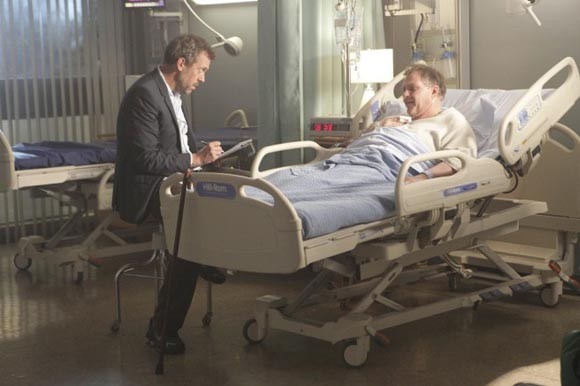 House (Hugh Laurie, L) and the team treat a patient (guest star Meat Loaf, R) whose condition improves as his wife's worsens in the HOUSE episode "Simple Explanation" airing Monday, April 6 (8:00-9:00 PM ET/PT) on FOX. ©2009 Fox Broadcasting Co. Cr: Adam Taylor/FOX
As the top selling recording artist of the
Bat Out of Hell
albums, Meat Loaf is hard to miss. His hope though is that viewers do not associate his characters with the larger than life musician. "I started as an actor. Hopefully, my ideal situation is for people to watch House and not even know it's me. That's my ideal. A lot of times musicians, they want to take a persona and they wind up turning their stage persona into a situation where they're allowed to be a character, and I want to go so far away from that guy because I understand him. The best thing for me is for people to not know it's me."
House airs Monday nights on Fox.
Story/Interview by
Fred Topel
Starpulse contributing writer
(Starpulse in Hollywood)
: Every week, Hollywood's biggest stars are meeting in the hot spots and Starpulse is there.