MC Hammer Caught Up In Police Conflict At Occupy Oakland Protest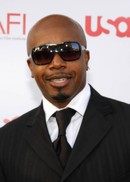 Rapper MC Hammer found himself in the middle of a police confrontation on Wednesday as he participated in anti-capitalism rally in California.

The hip-hop star took to the streets of Oakland to join the crowds who shut down the city's cargo port as part of an ongoing protest against corporate greed.

Tensions heightened after cops in riot gear allegedly used tear gas to control the thousands of activists, and Hammer reported from the scene via his Twitter.com page, writing, "It's tense down here... I'm lost for words... about to post some photos... I'm at Occupy Oakland."

The rapper then shared photographs of himself in the middle of the protesters' camp as well another shot showing police officers forming a barricade.

He also 're-Tweeted' messages from a fellow activist, who wrote, "Police kneeling to don gas masks... Tear gas, stampede. Occupy Oakland general strike ends badly."