Mayim Bialik's Theory on How Superman Shaves (Sponsored)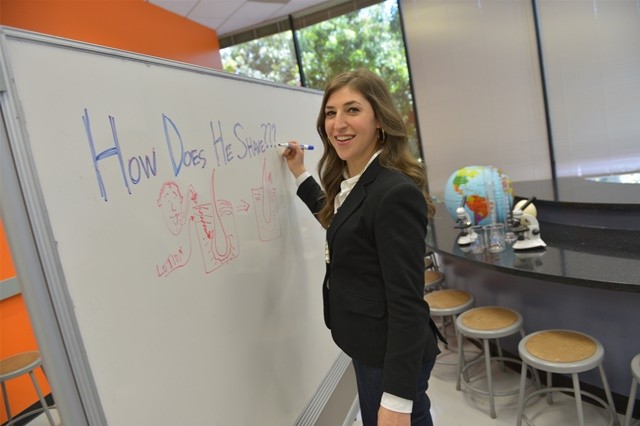 Superman/Clark Kent looks a bit different than you might expect in the upcoming Man of Steel movie. In many of the trailers – and there have been a lot of them – you'll notice that Clark Kent is sporting a beard in many clips.
But if he's truly a Man of Steel—how does he shave?
Gillette wondered the same things and launched HowDoesHeShave.com to post theories from ordinary people and some of the best authorities on the planet, including comic-book extraordinaire Kevin Smith, as well as PhD holder and Amy on The Big Bang Theory, Mayim Bialik.
I recently spoke with Bialik to discuss her theory on how Superman shaves as well as try and pry some Big Bang Theory scoop out of her.
So what's your theory for how you think Superman shaves?
My theory is that proteins that hold the hair follicle in place can be denatured and thus release the hair follicle, making the follicles fall out with gentle exfoliation.
What do you think of some of the other celebrity theories?
Well, I think they have academic merit for sure, but I also think mine is the best! I think with my Neuroscience training, my theory is scientifically sound and is the best!
Be honest: does Superman look better with or without the beard?
85% of women can't be wrong: the preference for a smooth-shaven man is clear and extends to the Man of Steel as well!
Do people come up to you on the street more to talk to you about Blossom? Or about Amy?
It depends on how old they are; if they are under 30, it's Amy. If they are over 30, it's Blossom or CC, my character from Beaches. There's also some overlap where people used to love me as Blossom and now enjoy me as Amy, so that's cool.
Any early scoop you can share for The Big Bang Theory?
I don't have any! We don't find out what our writers have in store for us until the week we get the script. I can't wait for the fall either!
Where can we see you next?
Probably at a movie theater seeing Man of Steel and other than that, I'm working on my vegan cookbook which comes out in February. And I'll be on the beach a lot this summer relaxing and getting ready for going back to work in August.