Mayim Bialik To Receive Anti-Defamation League Award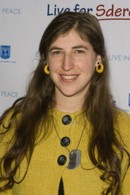 Former Blossom star Mayim Bialik is to be honored for her career accomplishments and charity work by The Anti-Defamation League (ADL).

The brainy star, who has a doctorate in neuroscience, will be presented with a top honor at the League's 18th Annual Deborah Awards.

The Big Bang Theory actress has been hailed by bosses as an "outstanding woman" in light of her acting, philanthropic endeavors and the parenting book she published this month.

Bialik, according to an ADL statement, is "married and has two sons, keeps a traditional Jewish home, cares for her boys with her husband all on their own, and is thrilled to be working again, as well as writing and speaking for a variety of Jewish organizations around the United States."

The League, which was founded to fight anti-Semitism and all forms of bigotry, will celebrate Bialik at a gala in Los Angeles on April 26th.