Max Adler Inspires Fans To Donate To Anti-Bullying Campaign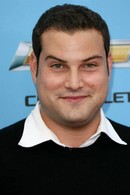 Glee tough-guy Max Adler has raised more than $7,300 for an anti-bullying charity after urging fans to donate cash to mark his recent birthday.

The actor, who plays mean jock Dave Karofsky in the hit series, serves as spokesperson for children's organization City Hearts: Kids Say Yes to the Arts, and recently created his own scheme through the initiative. 
Max's ABC: Anti-Bullying through City Hearts aims to help youngsters get through hard times, and Adler insisted on generating cash for the cause for his birthday last month.

He explains, "This year, for my 26th birthday, I am asking anyone who wishes to give me a gift to please visit www.cityhearts.org and donate what they can to help the kids who truly could use it. That would be the absolute best birthday present for me!"

"My goal with Max's ABC is to inspire kids to 'Be Brave Enough to Be Kind' and I know that City Hearts' theatre, dance, photography and other arts programs stimulate these children's creativity, and give them a higher sense of self-esteem and purpose in the community and the world. And when that happens, the thought of bullying others will not even enter their headspace."

Adler has already raised thousands for the charity. In a post on his Twitter.com page, he writes, "$7,320 raised from all over the world for CityHeartsLA. Such fantastic news! Thank you to everyone who contributed!"