Max Adler Hopes His 'Glee' Character's Suicide Attempt Makes Cyber-Bullies Think Twice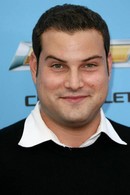 Glee star Max Adler is hoping his character's suicide attempt will prompt bullies to cease their cyber tormenting.

Adler's former bully character Dave Karofsky hanged himself by a belt in the harrowing episode which aired on Tuesday after he was 'outed' for being gay online.

The actor has been applauded for his portrayal of a suicidal teen - and he admits that researching the episode made him realize just how big a problem cyber bullying has become.

He tells Access Hollywood, "I put the work into it to understand what motivates that. If you read the articles and you talk to the people out there that are cyber bullied and see these notes on Facebook... you understand that it's just such a desperate action and there's no way out.

"It's just an important issue to tackle. The main message is that there is hope. You've just got to find someone who loves you for who you are and accepts you for who you are...

"But cyber bullying is a real issue because it's kind of gone from the old school, hand-to-hand combat method, where you could see someone's face and really feel the emotions, to now it's just a click of a button from a different country and you can crush someone's spirit. I feel like people don't realize that because they're desensitized because it's just a screen... and it doesn't feel connected.

"In watching these scenes, not only do we hope to give message to the victims of bullying but to the people who are doing the bullying - to show how much you can really just affect somebody. It's tragic."