Maurice LaMarche Returns To 'Dan Vs.' In 'Dan vs. Vegetables'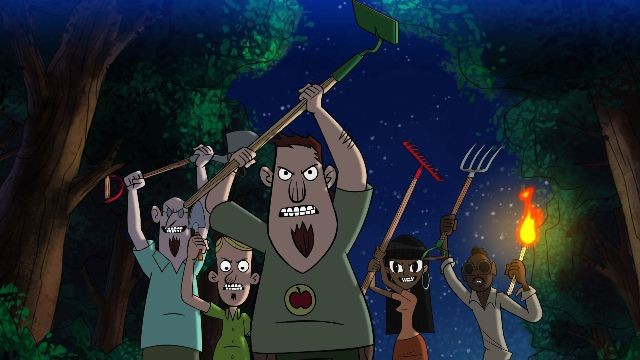 One of the other beloved series LaMarche worked on, Taz-Mania, is finally coming to DVD in May, and we asked him if there are any other series he'd like to see be made available again. "The answer to that question would've been Taz-Mania. That was a show we all had tremendous fun doing," he said. "Attack of the Killer Tomatoes was kind of fun. Real Ghostbusters as well. I think some of the old Inspector Gadgets might be fun to see on DVD."
Does he have voice actors that he's a fan of? "Oh, yes," he said. "I do have a bit of sadness that I never got to work with Mel Blanc, or even meet him. I missed him by five minutes once. The same with Orson Welles. I'd been in the studio after he'd just left."
"My own heroes, of course Frank Welker, who taught me so much. It was a university of education sitting next to Frank Welker," he continued. "Rob Paulsen, just a treat to work with and a dear friend. Tress McNeille, just a genius, and Billy West, one of the all time great nice guys. And Big John DiMaggio."
Given that he's just named several people who've participated in many of animation's most well-known shows, it might sound like there's a small unit of career voice-over actors. He says that's not necessarily the case, but there's definitely a group of familiar faces. "It seemed like that to me when I first tried to break into this business," he said. "There's quite a community, several hundred, [but] there does seem to be a core of actors that do the bulk of the work. I'm very fortunate to be in that core - even though I always seem to be five minutes late!"
Considering that he has voiced and continues to voice some of our most beloved characters, we can cut him a little slack. After all, nobody can voice something a giant broccoli monster better than the man who's won multiple Emmy Awards, an Annie, and has given us one of the best single line deliveries ever. Dan Vs. is even better for having him.
You can keep up with Maurice on Twitter (@MauriceLaMarche). "Dan vs. Vegetables" airs today at 4:30 PM ET/1:30 PM PT only on The Hub. Check out a clip below.
For more from Brittany Frederick, visit my official website and follow me on Twitter (@tvbrittanyf).
(c)2013 Brittany Frederick. Appears at Starpulse with permission. All rights reserved. No reproduction permitted.