Matthew Ryan Releases First Solo Album In Three Years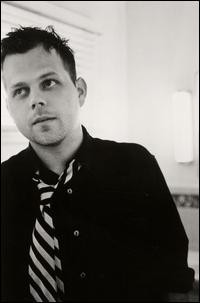 Matthew Ryan
delivers his first solo set in three years titled
From A Late Night High-Rise
, on Brooklyn-based indie 00:02:59.
Mindfully, Ryan shuns the traditional record company model for an intimate release befitting of such a personal album. "The decision was easy." Ryan explains, "With a major label push there is no romanticism. I don't mean to sound cynical, but it's like trying to play golf in a mine field."
Its digital release date will be December 5, but Ryan will hand-deliver traditional hard copies of High-Rise to fans across the country while on tour, including dates in November. And it doesn't get more personal than that.
In the three years since
Regret Over The Wires
, Ryan has penned two albums of songs, with the most notable to date being "For Blues Skies." Originally intended for inclusion on High-Rise, the song found a home on the self-titled 2005 release from Strays Don't Sleep, Ryan's collaborative side-project.
Written while his brother was awaiting trial, "For Blues Skies" has developed a cult following online and found a broader audience thanks to the support from CW show "
One Tree Hill
." A simple internet search documents the emotional connection fans have made to the song - some calling it "unforgettable" and others inferring meaning to their own lives.
For Ryan,
From A Late Night High-Rise
is an extension of "For Blue Skies" since all the songs were inspired by the same events. From the aptly titled opener "Follow The Leader" and throughout the 12 songs, Ryan engages the listener's ears, heart and mind with his carefully chosen and purposely delivered words.
Matthew Ryan will begin his tour in support of
From A Late Night High-Rise
with friends Thad Cockrell,
David Mead
and Michele Malone for "Gang of Songwriters In The Round" performances during November. Visit
www.matthewryanonline.com
for further tour updates.
Matthew Ryan delivers
From A Late Night High-Rise
to the following cities:
November 1 ATHENS, GA The Melting Pot
November 2 CHARLOTTE, NC Evening Muse
November 3 ATLANTA, GA Eddie's Attic
November 4 KNOXVILLE, TN Corner Lounge
November 5 RALEIGH, NC The Pour House
November 6 ARLINGTON, VA Iota Club & Cafe
November 7 PHILADELPHIA, PA World Café Live
November 10 NEW YORK CITY, NY The Living Room
November 11 NEW YORK CITY The Living Room
November 12 BOSTON, MA Paradise Lounge
November 13 NORTHAMPTON, MA The Iron Horse
November 14 SYRACUSE, NY Mezzanotte Café
November 15 CLEVELAND, OH Beachland Ballroom
November 16 LEXINGTON, KY The Dame
November 17 CHICAGO, IL Schuba's
November 18 SPRINGFIELD, IL Underground City Tavern