Matthew Perry Talks About His New Show 'Mr. Sunshine'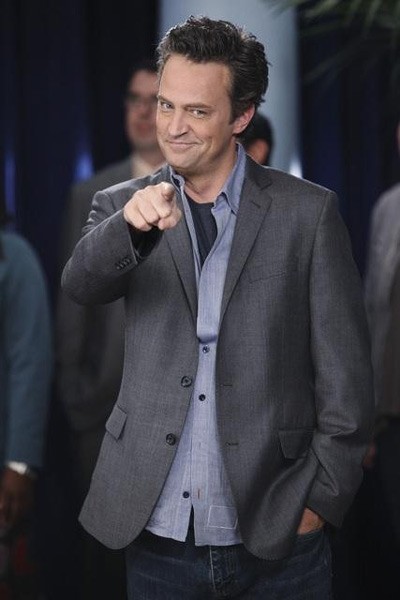 Matthew Perry is joining his former Friend Courteney Cox on ABC. His new show Mr. Sunshine premieres this week on the same network as her Cougar Town. Perry plays the manager of a sports arena who's trying to be nicer. That should be funny for the sarcastic comedian.
Perry met the Television Critics Association to preview his new show. He is writing and producing Mr. Sunshine as well as starring. Now the show is ready to air Wednesdays on ABC, as part of their comedy block.
Do you know any overly Sunshine-y people?
MP: I do have some friends that are remarkably happy and may not just understand that part of it, sure. I'm not going to name names.
Do you still find it hard to distance yourself from Friends and Chandler Bing or do you embrace it?
MP: You've got no choice. If you don't embrace it then you would just wake up every morning complaining. That's like the greatest experiences of my life still, Friends, so it's not something I want to get away from but I do want to try and show something new.
Was it a big decision to come back to comedy after trying to show a dramatic side?
MP: That's exactly what happened with me. I showed up in a few dramas and I did Studio 60 which was a really good experience, but a lot of that was trying to get away from being just the funny guy. And then I realized that life is just a lot better when you're on a big hit TV show. So I decided maybe I'll try to be funny again.
Just by nature of being on a show for 10 years, is it impossible not to put a lot of yourself into that character? And then that becomes so well known, is it harder to do a character that's less you?
MP: I'm less interested in that. Five years ago I was trying to be the drama guy but now I'm less interested in pigeon-holing myself in any direction. Yes, the fact that my characters on TV happen to be funny people, that will probably be the same because it's funny and why not do that?
What kind of guy is Ben on Mr. Sunshine?
MP: Ben is a guy that is a sort of flash over substance guy who thought he was happy living his life the right way and then it's pointed out to him that he's not, by someone he cares about. Then he goes, "Oh, I've been doing it all wrong." And that happens to happen on his fortieth birthday.
Was Ben a wild man or a jerk in the past?
MP: He wasn't even really a jerk. People always liked him, but they could tell that he didn't really know any of their names and he was mostly just thinking about himself. Then something happens in the pilot that sort of hurts his feelings and he's then explained why that happens.
Do you like the single camera style of this show?
MP: I do, I do. I think it breeds a little less big acting. I think if there's one camera, you're not playing to an audience. You can play some things more real. That's what we're trying to do on this show is be really, really funny and then slow down and play some heartfelt moments and have some real things going on. So with one camera, it's okay to just be a little smaller.
Is there anything from your own life, ageing and mid-life that you have incorporated in to the scripts for comedy?
MP: Well, there is a lot of comedy that comes out of this guy just having lived his life completely incorrectly and the 9,000 mistakes he is going to make along the way trying to be a better guy and I can use a lot of stuff from my own life.
What do you do to relax in your spare time these days?
MP: Just porn. I just watch porn. I actually like to hike now and I live near the ocean so I just kinda walk around and look at that, that's nice. Big! I love going to baseball games, and I love going to events and stuff, but it's sort of out of the memory of how excited I was being a kid and going to these places.  But I love them.  It's a fun place to go, and a lot of fun things happen there.
Do you prefer the acting side or the producing side?
MP: Well, what I have realized is that doing what I'm doing now is much harder and takes up much more time. You want to talk about the narcissistic guy, I used to think a project started at the table read. I used to be like, "Well I'm here, so I guess we are started."
What components are harder?
MP: The looking at an empty page. All writers say this but the looking at the empty page and trying to figure out how to fill it. That takes a while.
Did you visit sports arenas? What's the common thread you found?
MP: Just that it all happens very professionally. Everything's very on time because it has to be. I went to visit this guy Lee who does my job at the Staples Center. We wanted this to be the day, it was the day they were transferring the boards to ice. We wanted to see that and it takes two and a half hours to do that I think, if I remember correctly. I spent those two hours and a half asking him what the job was like. So doing kind of a comedic version of him, when you pull a curtain back and reveal this dysfunctional family, this dysfunctional group, we thought it would be funny.
Did you look at Madison Square Garden?
MP: Yeah, I mean I've never seen them from backstage before. I've been to all of them, a ton of them. Yes, I want to get good funny ideas for what can happen in these places from life.
Is something inherently funny about a hockey rink?
MP: Yeah, well Slap Shot is one of my favorite movies. In Slap Shot, they did this joke which I'd really love to just steal where he hears music playing and then they find him walking all around the place, Paul Newman, and up to the organist and he just goes, "Don't ever play Lady of Spain again." So it's great.
Matt Le Blanc let his gray hair come out in Episodes. Are you comfortable letting that happen with yourself?
MP: Yeah, I think so. Until it doesn't look good or something, then I'll change it. I am fine with the fact that some of my hair is gray. If it was all gray overnight that would be a scary thing.
Is there a love story in Mr. Sunshine?
MP: Well, he was in a friends with benefits relationship with Alice and she is now going to have a real relationship with James Lesure and she explains to me why that is. So he is going to obviously date a lot. There are going to be a lot of guest stars that are dating stories. But the entire premise of the show for now is that he's going to go about this in a different way, so all the old people that he used to go out with who just wanted sex, that's not going to be interesting to him anymore, much to his surprise.
Will we see you on Cougar Town ever?
MP: I sort of subscribe to that thing where I want a little bit of time to establish my character in this. I love the show, I think Courtney obviously is hilarious and a really good friend of mine. I just want there to be a little more distance before we do that. I didn't think that people would be able to watch it and not see Chandler and Monica. But I think if my show is lucky enough, to go on playing with different people, maybe.