Matthew McConaughey Wears A Wacky Plaid Suit In New York City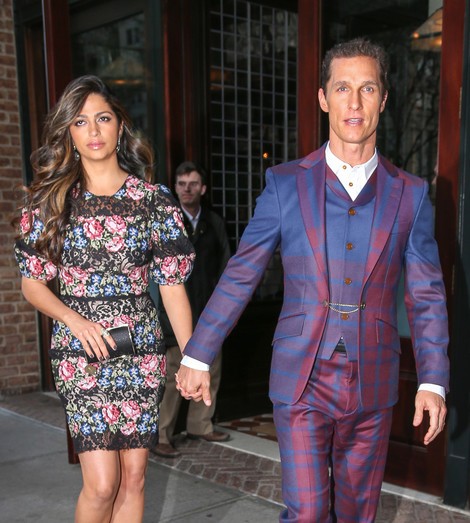 Judging by the look on his wife's face, Matthew McConaughey made a questionable fashion choice when he stepped out in New York City on Sunday wearing a very colorful ensemble. Either that or Camilla Alves was just annoyed by the paparazzi.
The actor wore a purple, pink and blue plaid suit in which the pants, jacket and vest were all the same pattern. He wore black shoes and a white button-down shirt.
The actor has launched a new sportswear collection, JKL, with Canadian-based apparel company Grand National Apparel. His clothing line is available at Dillard's.
McConaughey was on his way to the Apple Store in Soho to promote his new film "Mud." The film centers on a man named Mud who hides out on an island in the Mississippi and befriends two boys who help meet the love of his life (Reese Witherspoon) with a bunch of bounty hunters in tow. The film opens in theaters Friday, April 26.
The actor recently landed the lead role in Christopher Nolan's time-travelling adventure "Interstellar." The film will center around a group of space explorers who travel through a wormhole in a bid to put the scientific theories to the test.