Matthew McConaughey Stars In 'Surfer, Dude'; On DVD Dec. 30

What happens to a laid-back soul-surfer when the waves go flat?
Matthew McConaughey
explores this and other philosophical questions in
Surfer, Dude
, a hip flick that's sure to become a cult favorite for those with midnight movie munchies.
Surfer, Dude
debuts on DVD and Blu-ray on December 30, 2008.
Produced by and starring the sexy Matthew McConaughey, it's the first film from McConaughey's production company, j.k. livin productions.
Surfer, Dude
also stars
Woody Harrelson
(
No Country For Old Men
,
Semi-Pro
),
Scott Glenn
(
The Bourne Ultimatum
,
W
) and country music legend,
Willie Nelson
– a cast that is sure to help light up the New Year! Directed by S.R. Bindler of the critically acclaimed
Hands on a Hard Body
documentary,
Surfer, Dude
will offer cool bonus features including audio commentary with Matthew McConaughey,
Surfer, Dude: The Real Story
featurette, deleted scenes, the complete uncensored
Surfer, Dude
12-Webisode series, and the theatrical trailer.
Soulful longboard surfer Steve Addington (McConaughey) returns to Malibu for the summer to find his cool hometown vibe corrupted. New sponsorship demands Addington to expand into Virtual Reality Video Games and Reality TV. Unwilling to participate in this new digital reality, he chooses to spend his summer surfing his home break. But in a twist-of-fate, the waves go flat. Out of money, his expense accounts cancelled, and betrayed by his buddies, Addington is backed into a harsh corner. Aided by his manager (Harrelson), his mentor (Glenn), his guardian angel (Nelson), and his summer lover (
Alexie Gilmore
), Addington has a chance of keeping his cool, but it's not going to be easy. The dude needs a wave, and there's never been a drought like this.
-
We recently had the chance to talk with Matthew McConaughey about "Surfer, Dude." Check it out here!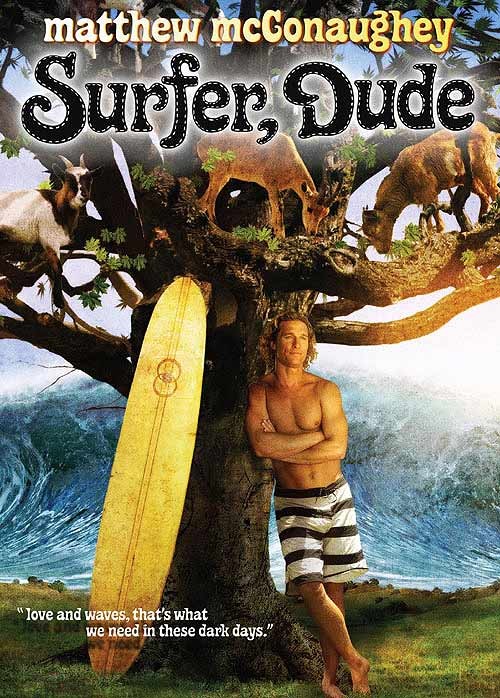 Click the pics for gallery & larger images