Matthew McConaughey Got His Mom A Part In His SXSW Film 'Bernie'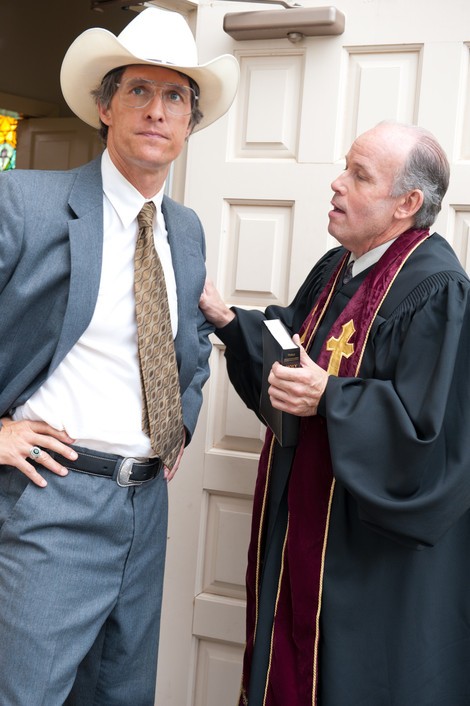 Matthew McConaughey had two films show during the SXSW film festival in Austin, TX this week, the dark and violent Killer Joe and the true crime comedy Bernie. The real star though maybe his mother, who makes a cameo appearance in Bernie. McConaughey reunites with his Dazed and Confused director Richard Linklater in the latter film.
"He's done this," McConaughey said. "In Newton Boys he hired my oldest brother Rooster and put us in a scene together, all right? So mom tells me she went to audition, or met. She goes, 'And Rick said he thinks I'm just right for it.' So a couple weeks go by and I go, 'Did you get the part?' She's like, 'Well, Rick said I was just right for it.' I go, 'No, no, that's what a director can say when he likes it in the room but did he say, 'You got the part?' She goes, 'No, no he didn't.' I said, 'You may be getting a callback. You better get ready to do some more.' So I get her pumped up and I'm serious but I'm jacking with her to make sure."
Kay McCabe didn't have many lines in Bernie but she made sure she got them right. "So she starts working, I work with her one night, all of a sudden she's walking around at any given time for a week saying, 'Well, mayyyybe. Mayyyybe. Yeah, yeah, yeah.' I'm working with her and stuff and telling her don't worry about the lines, just relax, be who you are, be yourself, that's what Rick is probably going to like the most. I don't know how exactly it went down but he finally just said yes, gave her the formal yes and everything notched up."
Linklater pulled one on McConaughey by placing McCabe in the same scene as the leading man. "Then she's in the movie, that's great," McConaughey continued. "Then we have a scene where I'm in the café one day and old cat here, sneaky cat, who's sitting next to me in the scene? He puts my mom in the scene right there next to me."
The director insisted this was not a prank. "It was in the script," Linklater said. "It took a while for them to notice. Once I assigned names to all of them, I had to do a lot of math and go, 'Oh wait.'"
McConaughey continued, "I had no idea she was sitting there so he's got my brother and I in one film, Newton Boys. Now he's got mom and I. I don't think he'll have too much luck getting the middle brother."
Bernie is the true story of a funeral parlor assistant (Jack Black) who entered a possibly criminal relationship with a local elderly woman (Shirley MacLaine.) McConaughey plays the officer prosecuting Bernie. And of course McCabe plays the very important local resident.
"She's been trying to get in every Matthew film," Linklater said. "She wanted to remake The Graduate. She thought that was a good idea. She's almost in every movie so when I finally cast her she was like, 'Well, at least someone appreciates my talent.'"
As for her son's turn as a brutal killer in his other SXSW movie, McConaughey said mom approved. "She liked it," he said. "She said, 'You bad, ooh you bad.'"
Bernie opens April 27 and Killer Joe is to be announced.