Matthew McConaughey Discusses 'Surfer Dude,' Rumors About Him & More

It must be nice being
Matthew McConaughey
. While making the film "
Surfer, Dude
" - out on DVD Dec. 30 - he spent time with friends and co-stars
Woody Harrelson
and
Willie Nelson
. Just minutes from the beach, the cast and crew wrapped filming each day, sat back with a few cocktails (and who knows what else) and hung out. Sounds like more play than work.
So how different is McConaughey from his weed-smoking, naked didgeridoo-playing character in "Surfer, Dude?" The actor took some time on a windy California morning to talk to Starpulse about the film, how he stays fit, several rumors that have been circulating about him, and the President elect
Barack Obama
.
In one of "Surfer Dude's" most memorable scenes, McConaughey's character, Steve Addington, plays a didgeridoo in the buff while trying to seduce the ocean into making waves. McCounaughey admits this is "a bit of a wink" to a 1999 incident in Texas in which he was charged with possession of marijuana and drug paraphernalia after a neighbor complained about music blaring from his house. Oh, and was reportedly naked and playing bongos. Drug charges were dropped, but the star paid a $50 fine for violating a noise ordinance.
"I was definitely playing some bongos. It was late, and it was hot, there wasn't much clothing going on there," admitted McConaughey unabashedly.
Listen to Matthew McConaughey's complete "bongo wink"
In several of his films McConaughey spends a lot of time shirtless. How does he maintain his physique? In "Surfer Dude", he, well, surfed. In general, he stays fit by being active and exploring, and sometimes that means bicycling or walking instead of driving.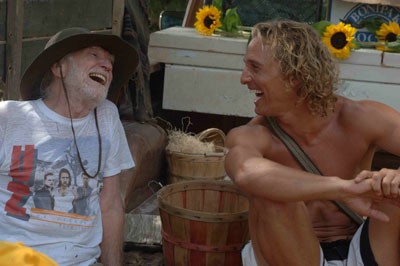 "I got good genetics from dad and mom. I just try to stay active. I don't have a certain regiment," he explained. "I was on a trip. I was driving in Southern Baja, I was camping out, and the car broke down in the middle of nowhere, and I hadn't seen a person for 3 days. I had to get up at 6 o'clock in the morning and jog a road until I found a car, which wound up being about 9 miles. I finally came across a fisherman who had a car and had some tools. If I get off the road, if I take some sort of adventure, something will happen where you got to stay active. I don't really have some sort of regiment. I go explore."
There have been plenty of rumors about McConaughey over the years, and he candidly addressed some of them.
Rumor #1 He's afraid of snakes.
"Not in particular. It's not one of my top 5 phobias."
Rumor #2 He's afraid of revolving doors.
"I don't like revolving doors, and I really don't like that blindspot when you're driving and go into a tunnel. You know that spot where you can't see for about 10 feet. You can't see what's in front of you or if someone's broken down or something in front of you."
Rumor #3 He doesn't wear deodorant.
"Not usually...I'd rather use a salt rock. But I don't like to run around where you can tell I'm coming. I don't smell like that."
Rumor#4 He staged a funeral for a chipmunk on the set of "Failure to Launch."
"They had one. It was the real one. A chipmunk died, and they had one. The guy lost his treasured pet. I didn't stage it though. I was there. We all took a moment."
Rumor#5 He's playing Magnum PI and Captain America
On Magnum P.I.: "There were some serious talks about it, but it's not something that's happening at this time."
On Captain America: Captain America? Well he sounds pretty cool. I don't know if there really is a script or anything about Captain America."
Would he play a superhero if he was asked to? "Yeah, if it was the right one, a cool one, that would be fun," he said.
And like many celebrities, McConaughey has strong feelings about Barack Obama being elected President.
Listen to Matthew McConaughey on Barack Obama
"I'm really, really excited about this time in our country and this time in history. I like to put it that I think it's a time for architecture instead of maintenance. It is really a new day. To see so many people my age and younger, and older, be so excited and inspired that this guy is in office and by what he's said and how he campaigns, the key is if we turn that excitement into real activity and real service. And that's going to be the challenge. He's not inheriting utopia right now or a perfect situation," he explained.
"Surfer, Dude" trailer
Story by
Noelle Talmon
Starpulse.com contributing writer