Matthew Mcconaughey: Actor, Surfer, Dude, Humanitarian Turns 40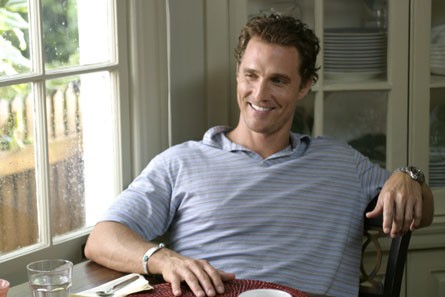 As we all know by now
Matthew McConaughey
is a cool dude and today, November 4, marks his 40th birthday. We will speak for all of us when we say, "Now we feel old."
McConaughey is one of the few people in the world that can make 40 look cool as he keeps in great shape, recently had his first child, and is together
Camila Alves
, who is a total babe and he does not even have to marry her!
The couple is expecting their second child in early 2010 and we can only hope the new baby is as cute as Levi Alves McConaughey. If you have not seen the pictures of Matthew and Levi on the beach doing yoga, they are to die for.
Born in rural Texas in a city called Uvalde, Matthew came from a blue-collar middle class family whose father, a former football player, owned a gas station and mother a substitute teacher. He graduated high school in 1988 from a local high school in Longview, TX and spent a year in Australia immediately after graduating.
McConaughey has said in an interview with an Australian entertainment site that he credits the Australian coast town of Warnervale for leading him to a life of fame, fortune and romance with some of the world's most beautiful women. He spent 12 months in the land down under as an exchange student and found out what he wanted to be successful in Australia.
The 2005 People Magazine Sexiest Man of the Year washed dishes and shoveled chicken manure for a year and the unspectacular life he lived really set the struggling vagabond straight.
"I don't think I'd be here today if I hadn't taken that first year off," McConaughey told the Australian entertainment publication AAP in 2006.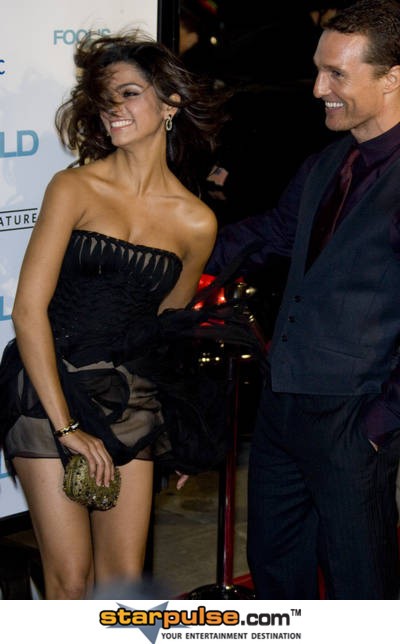 Matthew McConaughey and Camila Alves © Chris Hatcher / PR Photos
After coming back home a new man and a new lust for life McConaughey decided to attend the University of Texas in Austin and he originally wanted to be a lawyer but he changed his focus to film after he read "The Greatest Salesman in the World."
After appearing in numerous student films and commercials Matthew got his break as he nailed the David Wooderson role in "
Dazed And Confused
" and coined the phrase:
"That's what I like about these high school girls; I get older, they stay the same age." We still LOL at that line and everyone single man in the world above the age of 25 still uses that line, as long as they are talking about recent high school graduates.
After breaking out in Dazed, Matthew's career really took off.
He had a role in "
Angels in the Outfield
" which starred another up and comer
Adrien Brody
and after a few small roles McConaughey's big break came as he played a young starry-eyed attorney opposite
Sandra Bullock
and
Kevin Spacey
in John Grisham's "A Time to Kill."
After thriving in the role Matthew started getting offers for almost every movie and starred with
Jodie Foster
in "
Contact
" and worked with
Steven Spielberg
in "
Amistad
" both in 1997.
The following years Matthew's career started flourishing.
He played the romantic comedy hunk a few times in "
EdTV
", "
The Wedding Planner
", and "
How to Lose a Guy in 10 Days
".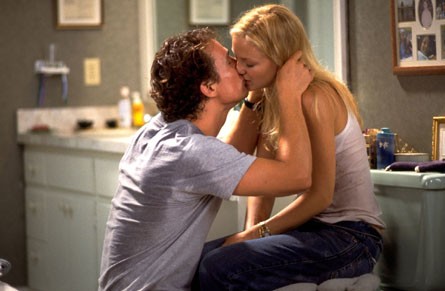 How to Lose a Guy in 10 Days © Paramount Pictures
Known as a heartthrob, McConaughey wanted to play other roles and he starred in the 2000 film "
U-571
" and the 2005 films "
Two for the Money
" and "
Sahara
".
With his career thriving, McCounaghey did not stop making hit movies.
The 2006 film "
We Are Marshall
" was one of McConaughey's best performances as he played an inspirational head football coach, a role he dreamed of playing. In the same year he starred opposite Sarah Jessica Parker in "Failure to Launch", another romantic comedy that made nearly $90 million.
Lately, it seems every role McConaughey does turns to gold.
Is he Matthew the best actor in the world? No, we doubt he will ever win an award but he is entertaining.
In 2008 he starred in "
Fool's Gold
" and made an appearance in "
Tropic Thunder
", two films that made over $180 million. Last year he starred in another romantic comedy "
Ghosts of Girlfriends Past
" that made $76 million.
He thrives in the romantic comedy business but he can also entertain men as he is oh so cool in his roles in "Two For The Money", "We Are Marshall", "Sahara", "Contact", "A Time to Kill", and of course, "Dazed and Confused".
While his acting career took off his personal life was not as stable. He went from girl to girl, namely Sandra Bullock,
Penelope Cruz
,
Janet Jackson
, and
Ashley Judd
but has recently found a partner in Camilla Alves, the mother of his son Levi.
He is an avid sports fanatic and can be seen on the sideline of many Texas Longhorn football and basketball games. Ten years ago he was arrested for resisting arrest and on suspicion of marijuana as a police officer was called by a neighbor complaining of loud music.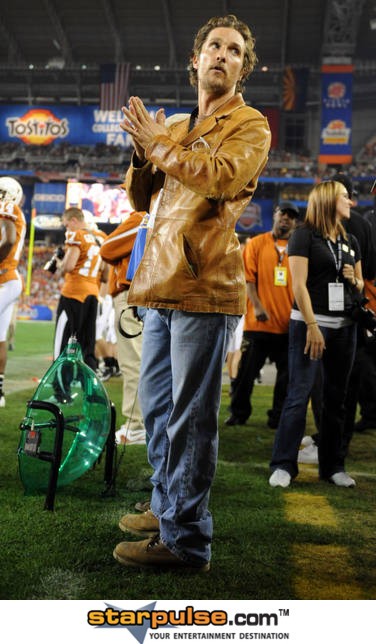 Matthew Mcconaughey at Texas Longhorn football game © PR Photos
When the officer came to McConaughey's house he found the star playing the bongos naked and was subsequently arrested but was only charged with disturbing the peace.
He does tremendous work with his foundation j.k livin, which is dedicated to helping teens become great individuals. He was also very helpful in the Hurricane Katrina rescue mission as he helped numerous stranded pets.
Although Matthew can only play a few roles on the big screen, the romantic comedy role and a semi-serious one, he is multi talented in life. A family man, a humanitarian, and an educated wanderlust, are all roles he plays off the big screen and those roles are more important than being the best actor in the world.
Story by
Matt Anaya
Starpulse contributing writer
Twitter.com/shmattshmanaya