Matt 'Saved' On 'American Idol;' See The Power Rankings

"
American Idol
" proves once again that it is the greatest money machine on television. We got the requisite Ford video last night along with what amounted to an extended trailer for "
17 Again
." It was certainly cool to see the contestants soak up their first bit of Hollywood glamour while they're still less than jaded, but you wonder how much cash the studio dropped on "Idol" to get them at their premiere. It's just insane how well they use product placement on this show and they even manage to make it a bit subtle. Unlike the already infamous "
90210
" Dr. Pepper commercial, er, episode.
On the subject of commercials, a lot has been made of these Windows commercials (the ads where people by laptops for much cheaper than they can get a Mac). They say they're in accurate, that the computers aren't comparable, that it's basically all a big lie. But I don't care about any of that. I care about Lauren. Who is this girl? She's one of the hottest women I've ever seen. If her next commercial finds her buying a Microsoft Zune for a nickel and saying it's more powerful than the iPod I'll believe it. Whatever you say, Lauren! You've officially turned me into a wilted jellyfish with your plastic-framed glasses, crimson curls and spunky charm.
Of course, the real reason we tune into this show is the music, and there's no better stage to launch a single than the biggest show in the country.
Jennifer Hudson
takes full advantage by absolutely slaying her new single. She was never anywhere near that good when she was a contestant on the show, but she gave a lesson in stage presence and artistry that Lil Rounds was hopefully watching.
And then there was
Miley Cyrus
. I don't know what planet they get these kids from - Allison Iraheta,
Zac Efron
,
the Jonas Brothers
, Cyrus - but they all comport themselves like they're 35 years old. And isn't it a bit weird to be actually inspired by a 16-year-old millionaire whose family showbiz connections have basically turned her into a superstar with very little effort? Either way, both Cyrus and Hudson used the power of this show very well with fine performances - they should benefit greatly.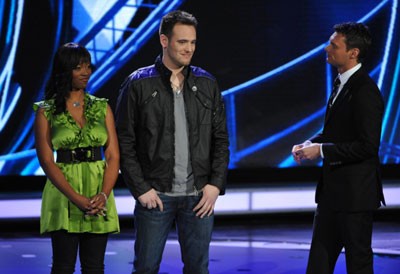 Speaking of the show's power, here's one more note about the judges' not being able to speak last night. It's been done to death on blogs and in this column, but one more comment should be made. When
Simon Cowell
told Kris that he was brilliant on the results show, something he was unable to say on the performance night, it really showed how unfair it was to the contestants to only get two shots at a positive review. Kris may have avoided the bottom three, but what a shame it would have been to see him on those uncomfortable stools with Simon's never being able to tell him he was good. When Simon speaks, America votes along with him, and three contestants had no chance at that powerful endorsement.
Ultimately, the show went according to my predictions so maybe the unfair method of judging the contestants didn't really affect anything. Matt was definitely the best candidate for the save; if he picks good songs he has a chance to win it all, even if Simon doesn't think so. Just avoid the
Bryan Adams
, man!
But maybe I'm stepping all over the power rankings. So without further delay, here they are:
1 (Last week's Rank: 1)
Adam Lambert
The media and the public have seemingly already anointed him the winner. He's either going to have to screw up royally or have somebody take a significant step forward for him not to take home the crown.
2 (5)
Kris Allen
So maybe I was a bit too hasty when I dumped him down so low after one bad performance last week. Kris has maybe the only real shot at upsetting Adam because he's good-looking, has a huge following and appears to actually know something about music, as evidenced by his picking songs that you don't hear on "Idol" every single year. Plus, he didn't touch the bottom three when he desecrated "All She Wants to Do is Dance" (if that's even possible). He's clearly well-liked.
3 (2)
Allison Iraheta
And then there's Allison. She's the most complete performer ever to hit the "Idol" stage at age sixteen (yes, that includes Archuleta) and will soon have a monopoly on the girl vote. Plus, she survived the leadoff spot last night without even a trip to the bottom three. She could very well win it, but her inexperience may result in one more lackluster performance, which could be enough to send her home amidst this stacked group.
4 (3)
Danny Gokey
I kind of feel bad for Danny. Not only did his wife die, people are actually complaining about his supposed milking of her death. Are we really that cynical that a guy who loses his wife at such a young age makes us roll our eyes when he points to the sky after singing a love song? Unfortunately, yes. He's gotten too much backlash to be a serious contender. Deserved or no.
5 (4)
Matt Giraud
I don't know what to make of Giraud anymore. He'll have the best career of anybody left on "Idol" but he seems to have already checked out. His performances are often confusing as he tries to do too much. He also doesn't have the ability to belt - the one thing that always wins over voters even if it's like the 17th most important skill for a recording artist. He probably won't win, but when he's collecting his 16th Grammy in 10 years he probably won't mind.
6 (6)
Lil Rounds
Lil still has sooo much potential. I mean, did we see her kill that Mary J. Blige song during the round of 36? That couldn't have been a mirage, she has to have a few of those left in the tank. If she does, she could actually win. As it stands, she has no chance, but the potential means we can't drop her to the bottom spot just yet.
7 (8)
Anoop Desai
Anoop's ranking is a testament to the depth of this competition. He could actually win the whole thing, yet he continually resides at the bottom of these rankings. He doesn't have the talent or stage presence of anybody above him, but he does have great pipes and with a few good song choices could find himself with a shot at the end.
What did you think of last night's non-elimination round? Let us know in the comments!
Story by
Andrew Payne
Starpulse contributing writer