Matt Damon Suits Up To Save The Earth In 'Elysium' - Watch The Trailer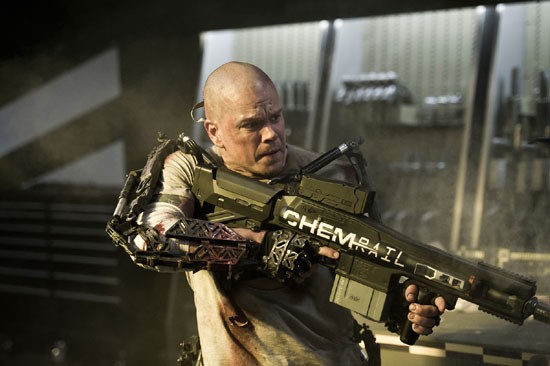 From the director of 'District 9' comes 'Elysium,' another futuristic tale of the feud between two separate societies. The story follows Max Coburn (played by Matt Damon), who for reasons unknown needs to go to 'Elysium,' a futuristic paradise in space.

The movie shares some things in common with "District 9" - high society completely distanced from the masses, with the plebeians living in squalor on Earth (which has completely fallen into disrepair) and the aristocracy living on Elysium - an enormous utopian society created on a ring in space.
Apparently, director Neill Blomkamp is very fond of starkly contrasting societies, giving "Elysium" the same gritty and realistic dynamic that "District 9" had.
Of course, the trailer promises an action-packed thrill ride. It seems Damon's character will be actually suffused with some sort of power armor, allowing him to go cuff-to-cuff with the robotic security forces of Elysium as a cyborg superman. Why? Well, the Earth sucks, is riddled with oppressive and organized crime, low-grade healthcare and disease.
Simply put - the people of Earth need access to the technology Elysium offers, and the burden of opening up Elysium to the masses of course, falls on Max Coburn. But Secretary Jessica Delacourt (Jodie Foster) is intent on preserving the status quo and the perfect Utopia that is Elysium by keeping the riff raff out - by any means necessary.
We don't have many more details yet, but if you like sci-fi action movies, 2013 is shaping up to be a great year with films like Pacific Rim, Oblivion and After Earth being released mere months after each other. Get your wallets ready sci-fi fans, it looks like you have another movie to see on the silver screen.
Fun fact - in Greek and Roman mythology, Elysium was a place at the end of the Earth that famous heroes went when they died and lived with the Gods in complete and utter happiness. The title was no mistake.

"Elysium" comes out August 9.