Matt Damon: 'I Don't Think Voicing A Political Opinion Is Necessarily A Contribution'

Matt Damon
participated in The History Channel's program "The People Speak," where Hollywood actors read and perform historical documents. He has made some political films and sometimes expressed his opinions, but he's not trying to be in your face.
"I think there are so many opinions flying around out there that it's probably impossible to change anybody's mind by going out and spouting off your opinion," Damon said. "I think when it comes to politics, people are pretty much set in what they believe. Whatever they read or hear is just going to make them believe what they believe more. So a lot of times, I don't think that voicing a political opinion is necessarily a contribution. It just depends on what your aim is: to hear yourself talk or to actually affect some kind of change."
The purpose of "The People Speak" is to educate children on issues from history by dramatizing them. Damon's personal interest is deep seated in his childhood, beginning with the Howard Zinn book on which the show is based. He said, "Probably from reading this book, growing up next to Howard and having a mother who really believed in being involved and being an engaged citizen. I would recommend this book above all for people who are interested in history. It's a great book."
Now that Damon is a father, he's going to get his kids involved. Already they are joining in his environmental conservation causes. "It's funny, they get it. Kids definitely get it. They turn out the lights when they leave a room. I'm going to read to them and talk about these things."
Damon is joined by A-listers like
Josh Brolin
,
Sean Penn
,
Viggo Mortensen
,
Morgan Freeman
and
Rosario Dawson
. Even musicians like
Bruce Springsteen
,
Pink
and
Eddie Vedder
are on board to perform historical ballads.
"That's just, again, a testament to the book. I mean,
Bob Dylan
, these are normally people who don't do things like this," he commented.
Look for "The People Speak" on The History Channel.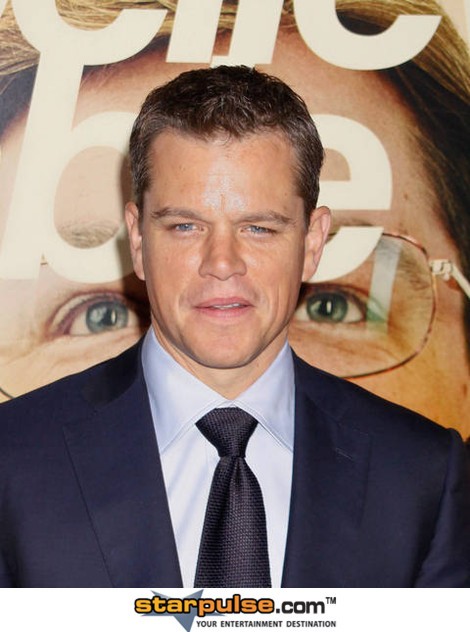 Image © PR Photos
Story/Interview by
Fred Topel
Starpulse contributing writer
(Starpulse in Hollywood)
: Every week, Hollywood's biggest stars are meeting in the hot spots and Starpulse is there.