Matt Damon 'Freaked Out' Filming Scenes With Snakes & Bears In 'We Bought A Zoo'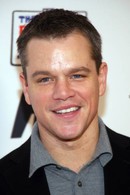 Matt Damon was "freaked out" filming key scenes in new movie We Bought a Zoo as he was forced to handle snakes and face down a grizzly bear.

The Good Will Hunting star stars as a father running a Californian animal sanctuary in the film, which also features Scarlett Johansson, and he admits he was left terrified by his beastly co-stars.

He tells Live magazine, "Scarlett loved the snakes. I was totally freaked out by them to start, as I'd never picked up a snake before. I had some childish fear of being bitten, but I was assured they weren't poisonous. They were really quite friendly. You just drape them all over you."

And Damon was equally frightened filming a scene with an enormous bear, even though the actor was safely inside a car during the shoot.

He adds, "(The bear) was over 12 feet tall, just massive, and he got very close when I was in the car in one scene... He could have put his face through the window. There's something strange that happens when you get that close to these animals, realising at a very deep level that you're somewhere in the middle of the food chain."