Matt Damon 'Disgusted' By Debt Deal Tactics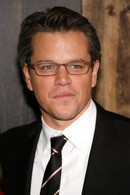 Matt Damon is "disgusted" after American politicians stalled on a deal to raise the U.S. national debt ceiling.

The Bourne Identity star was frustrated after officials came dangerously close to defaulting on bills after Republican and Democratic heads failed to agree on a way for the country to bring down the national deficit.
 
While a deal was finally cut just days before the Tuesday deadline, Damon is furious over the tactics employed by the more right-wing members of the Republican party, who refused to compromise on raising taxes for the rich.

He told reporters, "I'm so disgusted... The wealthy are paying less than they paid at any time else, certainly in my lifetime, and probably in the last century. I don't know what we were paying in the roaring '20s; it's criminal that so little is asked of people who are getting so much."

"I don't mind paying more. I really don't mind paying more taxes. I'd rather pay for taxes than cut (learning services) Reading is Fundamental or Head Start or some of these programs that are really helping kids."