Matt Damon And Emily Blunt Star In 'The Adjustment Bureau' - Now On DVD & Blu-ray (Win A Copy!)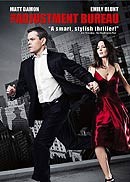 A rising politician finds himself caught up in a pulse-pounding, mind-bending conspiracy in The Adjustment Bureau, the acclaimed film coming to Blu-ray Combo Pack and DVD on June 21, 2011 from Universal Studios Home Entertainment. Academy Award winner Matt Damon and Golden Globe winner Emily Blunt are the star-crossed lovers chased by mysterious forces that threaten to destroy their futures unless they abandon one another. Deleted and extended scenes, filmmaker commentary and exclusive bonus features offer behind-the-scenes looks at the making of the film. Plus, for a limited time only, the Blu-ray Combo Pack of The Adjustment Bureau includes a downloadable digital copy of the film that can be viewed anytime, anywhere, on an array of digital devices.

Written for the screen by George Nolfi, who also makes his directorial debut, The Adjustment Bureau is based on the short story "Adjustment Team," by visionary writer Philip K. Dick (Total Recall, Minority Report, Blade Runner). The Adjustment Bureau also stars Anthony Mackie, John Slattery, Michael Kelly and Terence Stamp.

On the brink of winning a U.S. Senate seat, charismatic politician David Norris (Damon) meets Elise Sellas (Blunt), a woman unlike any he's ever known. As he realizes he's falling madly in love with the beautiful, contemporary ballet dancer, strangers conspire to keep the two apart. David learns he is up against the men of the Adjustment Bureau, who will do everything in their considerable power to prevent the pair from spending the rest of their lives together. In the face of overwhelming odds, he must decide whether to accept his predetermined path and let her go…or defy Fate and risk everything to be with the woman he loves.
Enter to win a copy of The Adjustment Bureau on DVD or Blu-ray, click here for entry form!