'Masters Of Sex' Stars Lizzy Caplan And Michael Sheen Unfazed By Show's Nudity And Sex Scenes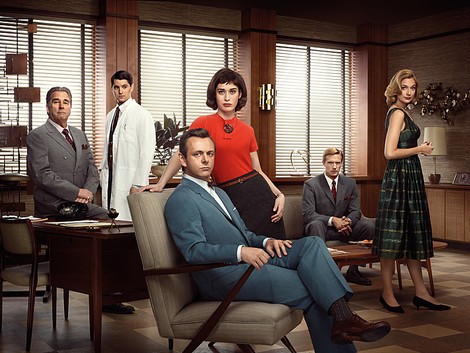 Showtime's new series Masters Of Sex, which premieres on Sunday, September 29, focuses on the real life studies of sex researchers William Masters and Virginia Johnson, who in the 1950s began to revolutionize the way people view the things that go on between couples in the bedroom.

The show, based on the book of the same name by biographer Thomas Maier, stars Michael Sheen as Masters and Lizzy Caplan as Johnson, both of whom had to get comfortable with a lot of nudity and simulated sex acts.

"We've seen so many people do bizarre things in front of you, you get used to it," Sheen said at this year's Television Critics Association fall previews in July. "There's a naked woman in front of you masturbating ... and you almost don't notice."

Caplan feels almost the same about it.

"You know, one would think that it would be very strange to watch strangers take their clothes off and pretend to have sex in front of you, but as it turns out, it's something that's very easy to get used to," the actress told David Letterman on Wednesday night.

So far, the show is getting a lot of positive reviews.
Here's what some of the critics have been saying:

"Michael Sheen and Lizzy Caplan are captivating. She has the more immediately fetching part as a liberated-before-her-time single mother, but he grows fascinating as a brilliant researcher into passion who suffers from personal coldness," - James Poniewozik, TIME

The first two episodes of Showtime's "Masters of Sex" are good, but they don't begin to suggest how great the series becomes, not only as a kind of co-biography of sex researchers William Masters and Virginia Johnson, but as a potently layered consideration of human sexuality," - David Weigand, SFGate

"Like sex, 'Masters of Sex' gets better as it goes on... at times, 'Masters of Sex' feels like a soap opera in 'Mad Men' clothing. Yet the series is not without a sense of humor, especially about the ignorance of men who think they know everything about women and never thought to ask," - Alessandra Stanley, New York Times

"The lead actors are excellent. The writing has a confident pace and expert touch when it comes to balancing its more emotional moments with a refined wit. - Hank Stuever, The Washington Post

"It makes the most of its pay-TV platform by showing plenty of skin, but the sex scenes service a bigger story made all the more compelling by a couple of strong leads in Michael Sheen and Lizzy Caplan," - Lori Rackl, Chicago Sun-Times

"A few plotlines look rocky, and a few lines of dialogue stumble, but based on the first six episodes, we're being introduced to a show that can enlighten, entertain and contend for Emmys, all in the same breath," - Robert Bianco, USA Today

"Masters Of Sex" premieres Sunday, September 29 at 10pm on Showtime.