Mary Louise Parker: 'People Give Me Pot All The Time'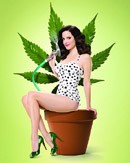 Fans of TV series Weeds are so convinced actress Mary Louise Parker is a marijuana lover they keep offering to get her high.
 
In the hit comedy Parker plays Nancy Botwin, a widow who sells drugs to support her family - and the star reveals viewers often assume she's just like her pot-loving character.
 
She says, "People give me pot all the time... It's homemade a lot of times. People say, 'I grew it myself.' That's the thing I hear."
 
"I try to be gracious, you know, I'm not going to not take it. But I don't smoke it. I have children, you know. I'm not somebody who's going to go home and (smoke it)."