Mary J. Blige Studying Nina Simone For New Movie Role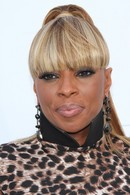 Mary J. Blige is spending the summer researching the life of jazz and blues legend Nina Simone ready for an upcoming biopic.

The schedule of Blige's current film Rock of Ages has forced film bosses to delay the start of the Simone story until October - and that gives the R&B star plenty of time to study up on one of her heroines - and get her sound just right for the project.

The "I'm Going Down" singer says, "I have a lot of YouTube (footage) of her to study her and I read about her and talked to different people about her. I need to become whoever she was and dig in.

"I got to get a piano coach and a dialect coach to play her. Acting is something that I'm testing and it's working. I don't think I'm gonna become Meryl Streep... but I'm going to do the stuff that people believe in me for."