Mary J. Blige Demands A New Toilet Seat For Every Show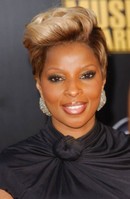 Mary J. Blige is so concerned about hygiene while she is on the road, she asks venue staff to buy her a brand new toilet seat for her dressing room.

The R&B star makes the bizarre demand in her tour rider, obtained by The Smoking Gun, which states the singer's backstage area should have a "private toilet (with a new toilet seat)."

Blige asks for red vine licorice, Aveda candles and a loveseat for her dressing room, while the document also unveils her hotel stipulations, revealing she checks in under the name Mrs. Jefferson and demands a fruit basket of green apples and a bundle of local take-out menus.

Mary J. isn't the first artist to demand new toilet seats while on tour - Madonna also demanded fresh seats on her dressing room toilets while on her Confessions world tour.

"The seat has to be inspected by her people, then installed - with an unbroken seal - by plumbers before every gig," a source told Britain's Daily Mirror in 2006.

And that's not all - Madonna also requires candles and a love seat in her backstage areas; as well as a foot spa with lavender and camomile body soak, Kabbalah water, and white drapes and white roses.