Marvin Winans Defends Mother's Decision To Keep Whitney Houston's Funeral Private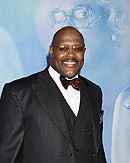 Gospel star Marvin Winans has defended his friend Cissy Houston's decision to scrap plans for a public memorial to her late daughter, insisting she's quite right to lay Whitney Houston to rest without the event becoming a media circus.

Plans to stage a tribute at the Prudential Center in Newark, New Jersey on Friday were nixed at the beginning of the week with family members making it clear that the pop superstar's funeral on Saturday would be a private, invite-only affair.

And Winans, who will deliver the eulogy at the service, insists Cissy and her relatives have made the right decision.

He tells CNN, "I knew that Mama Houston would do it the way she wanted it done, which is, 'We're going to church and we're not gonna be worried about if the world can get in. We're gonna lay our daughter to rest in the confines and the tradition of what we do.'"

Winans, who is also a pastor, adds, "I don't think it was a matter of public or private as it was, 'This is my daughter, this is my sister, this is my mother, this is my friend and we want to do this with dignity; we don't want to have a parade. We loved her when she was (nickname) Nippy in New Jersey. The world loves her because of her voice, but if Nippy could not sing, the Houston family would love her."