Martina McBride Offers Up Nashville Home As Hideout From Tornadoes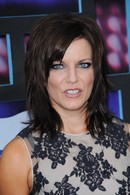 Country star Martina McBride offered up her Nashville, Tennessee home as a safe haven for locals on Friday as they braced themselves for deadly tornadoes to hit the state.

Weather forecasts showed storms were due to sweep through parts of the Midwest and the south on Friday and the kind-hearted singer invited fans and friends on Twitter.com to head to her house if they needed a place to hide from the danger.

In a series of posts on the social networking site, McBride noted the darkening skies and wrote, "Any of my friends in Nashville who don't have a safe place or a basement are welcome to come to my house. For real. Starting to look scary outside... And there goes the tornado siren...."

McBride and her family managed to weather the scary storms, which destroyed homes in other parts of Tennessee, and later updated fans by tweeting, "We're all ok. Looks like another storm on its way. Tornado warning til 5:00."

But not everyone was so lucky - reports suggest more than 30 people were killed when the tornadoes ripped through Indiana, Kentucky, and Ohio, and a number of stars took to Twitter.com to express their sadness.

Country star Reba McEntire was performing in Zurich, Switzerland on Friday night, and she has revealed her husband, Narvel Blackstock, kept in contact with their friends and family back home in Tennessee to make sure they were safe.

In a post on Twitter.com, she writes, "During my show last night in Zurich, Switzerland, Narvel was constantly monitoring the weather in TN staying in touch with family and friends. When I got off stage, I was very relieved to hear everyone was safe. This morning I awoke to CNN reporting of 27 dead because of tornadoes... My heart hurts for the ones who have lost loved ones, their homes and towns. I will continue praying for them."

Vampire Diaries star Ian Somerhalder writes, "These storms are crazy down here... Anyone or anything hurt by these tornados I'm truly sorry - it's bad... Climate change sucks - really," while actress Pauley Perrette, writes, "God, If I had superpowers I would STOP these tornados. Love & prayers to everyone in their path. Bless."