Martin Short Is 'The Burning Beekeeper' On New 'HIMYM'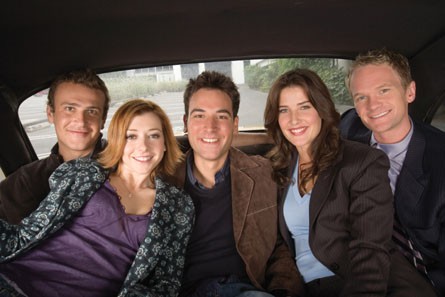 How I Met Your Mother returned with a new episode last night, kicking off sweeps month for CBS. Expectations are running high, with HIMYM in its highest ratings season ever.  Things got a little more crowded on Monday nights as the second season of The Voice moved into its new timeslot across the dial on NBC.  The Peacock went for the bold move of premiering the singing reality competition right after Super Bowl XLVI, and over 40 million people stuck around after the game to watch.  It will certainly be one of the more interesting ratings showdowns of the season. 
Last night's episode, "The Burning Beekeeper," started with Lily (Alyson Hannigan) and Marshall (Jason Segel) telling Mr. Aldrin (Chris Elliot) that they were planning a house warming party, only to find out that he is keeping beehives in the basement.   Lily is clearly concerned that the party is going to be a disaster, but the show must go on.  Older Ted (Bob Saget) tells us that it only took five minutes for the party to go awry.  Since so much happened in that five minutes, he breaks it down into what was happening in each of the rooms.
Fans of the show are familiar with this "To make a short story long" technique.  To make it short again, the episode is essentially the story of how Mr. Kootnz ends up running through the house wearing Mr. Aldrin's beekeeping suit from several different perspectives.  Oh, did I mention that the suit was on fire?
It turns out Mr. Koontz had told Marshall that he wanted him to come it to work.  Marshall and Mr. Koontz fight about this, and to change the subject Lily points Mr. Kootnz towards some vegan hors d'oeuvres.  It turns out the spring rolls had already been eaten by Barney (Neil Patrick Harris), who of course blames it on Ted (Josh Radnor).  Meanwhile, in the kitchen, Barney tells Mr. Aldrin that bees hate the smell of kerosene, even though he has no idea.  Mr. Aldrin douses his suit in kerosene and returns to the basement.  Koontz and Marshall return to their argument in the kitchen, where Marshall threatens to quit.  Kootnz, dejected, asks if he can put on the beekeeping suit so he can do something exciting for a change.  The dinner is ready to come out of the oven, so Koontz opens it up and the kerosene drenched suit catches on fire.  He runs through the house, out the front door, and jumps in some snow.  Marshall is horrified that Koontz will be furious, but instead he is laughing.  Koontz says that he has never felt so alive.  "Let's take the night off Marshall.  I will see you Monday, right?"  "Yeah," Marshall responds.
I was excited to hear that this episode was written by show creators Carter Bays and Craig Thomas, but in the end I thought it was pretty mediocre.  There was certainly a lot going on, and Craig and Carter are masters of these intricately weaved stories.  However, it was really just about how Marshall got into a fight with his boss and almost quit his job, only to reconcile with him in the end.   This device was much better done in episodes like Showdown, where the individual stories were more interesting and the overarching progression toward the event of Lily and Marshall's wedding had a lot more weight to it. 
I will be eagerly awaiting the Neilsen Ratings to see how HIMYM fared against The Bachelor and The Voice.  HIMYM is new every Monday this month, including a Valentine's Day episode Mon. Feb 13th. The legend continues at 8/7c on CBS.