Martin Sheen Running For President Of Ireland?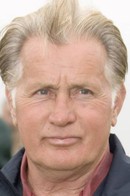 Fans of Martin Sheen have launched a campaign calling for the legendary actor to run for president of Ireland later this year.

The Apocalypse Now star is an Irish citizen because his late mother Mary Ann hailed from the country, and he stars in upcoming movie Stella Days, set in the Emerald Isle.

And because of his affiliation with Ireland, his loyal fans have started a campaign on social networking sites Twitter and Facebook to have him elected as president when the country chooses a new leader in October.

Thousands of Sheen devotees have added their support to the online groups, and the actor's publicist Steve Rohr tells the Irish Daily Star, "This is quite some news. I am not sure at this point if Mr. Sheen is aware of this campaign on his behalf."
 
Sheen has also gained a high-profile political supporter - Britain's former deputy Prime Minister John Prescott says, "Martin Sheen for Irish President - a winning candidate! Get him in the race."