Martin Scorsese Leads Crusade For 'Hugo' Dog Award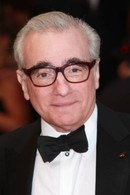 Martin Scorsese has launched a campaign to land the canine star of his movie Hugo a Golden Collar Award nomination.

The legendary director was upset after Blackie the Doberman failed to secure a nod for Best Dog In A Theatrical Film at the annual prize giving, which recognizes the most talented pooches in Hollywood.

He wrote a letter to the Los Angeles Times to complain about Blackie's snub, and pointed out that Uggie the Jack Russell scored two nominations for The Artist and Water for Elephants.

Scorsese ranted, "How could she not be nominated? Jack Russell terriers are small and cute. Dobermans are enormous and handsome. More tellingly, Uggie plays a nice little mascot who does tricks and saves his master's life in one of the films, while Blackie gives an uncompromising performance as a ferocious guard dog who terrorizes children."

"I'm proud of Blackie, who laid it on the line and dared to risk the sympathy of her audience."

Dog News Daily organizers have agreed to include Blackie in the category if 500 fan nominations are received via Facebook.com.

Also competing for Top Dog are Cosmo from Ewan McGregor's drama Beginners, Denver of the comedy 50/50, and Young Adult's dog star Hummer.