Martin Scorsese Explains 'Goodfellas' Garlic Trick On 'Jimmy Kimmel Live!' (Video)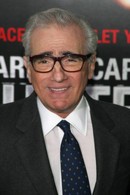 Moviemaker Martin Scorsese showed off his culinary skills on TV Tuesday night when he sliced garlic with a razor blade.

The director was a guest on Jimmy Kimmel Live! and agreed to show the host how to perfect the odd chopping method, which featured in his cult film Goodfellas after Kimmel confessed he had tried to do it at home and failed miserably.

The TV host admitted he liked the idea of garlic being sliced so thin it melted in olive oil - but the trick never worked for him.

Scorsese revealed it was difficult to do, but his mother had perfected it in a dish that is now served at pal Francis Ford Coppola's restaurant.

She explained, "My mother made a dish called chicken with lemon and garlic and if you go to Francis Coppola's restaurant he has it on the menu... It's pretty good, pretty close.

"The garlic was cut so thin and she would put it on the chicken and the chicken would be roasted... and the garlic would blacken and then disappear into the lemon juice. It was delicious."