Martin Lawrence's 'Open Season' To Be Released In Theaters & In IMAX 3D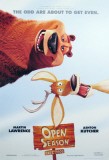 IMAX Corp. and Sony Pictures just announced that animated feature
Open Season
will be released in IMAX 3D simultaneously with the motion picture's premiere in conventional theatres on September 29, 2006.
The film centers on Boog (
Martin Lawrence
), a grizzly bear with no survival skills, who has his perfect world in the tranquil town of Timberline turned upside-down when he meets Elliot (
Ashton Kutcher
), a scrawny, fast-talking wild mule deer.
Elliot arrives in Timberline, missing an antler, and strapped to the hood of a truck, courtesy of the paranoid uber hunter Shaw (
Gary Sinise
). Against his better judgment, Boog frees Elliot. Elliot attempts to return the favor by "freeing" Boog from his idyllic existence with his beloved Park Ranger Beth (
Debra Messing
), who raised him since he was a cub.
Things quickly spiral out of control. The two troublemakers are relocated together to the wild...just three days before open season! With hunting season upon them and Shaw in hot pursuit, Boog and Elliot must learn to work together and unite the woodland creatures. In a rowdy, madcap battle, they make the woods safe once and for all by turning the hunters into the hunted.